New From New York, It's Saturday Night: What Critics Said 40 Years Ago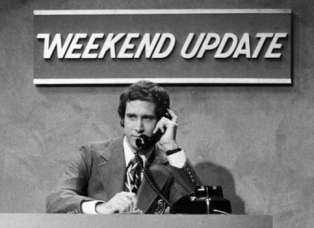 As Saturday Night Live prepares to celebrate 40 years on the air with a star-studded anniversary special tonight (8/7c on NBC), it's easy to forget that there was once a time when "Live from New York, it's Saturday night!" was not yet an iconic phrase. When the show premiered on Oct. 11, 1975, with George Carlin as host, it was called just Saturday Night, but the importance of the live element wasn't lost on any of the early critics. Here, a look at what the media had say before SNL was shorthand for television comedy.
TV Guide Magazine, Jan. 3, 1976: Critic Cleveland Amory's take on the show was mixed, but he was mostly smitten with Chevy Chase's Weekend Update and early host Lily Tomlin. The full text below:
SATURDAY NIGHT: This show is a kind of combination of Monty Python and When Things Were Rotten — in other words, it's part of the strange new virus that has infected TV this season: the idea that if you can't be good, be collegiate. But make no mistake — NBC's Saturday Night is far better than Python and Rotten.
The show is live (which is praise­worthy in itself) at 11:30 P.M. ET on most Saturday nights (the rest belong to NBC's Weekend). But if Saturday Night is hard to find, it isn't hard to take, because the late hour allows for the use of more adult comedy. Sometimes it also permits less taste—but we'll get to that in a moment.
Of the regulars, the best is Chevy Chase, who does satiric newscasts. From the first moment we heard him intone, "I'm Chevy Chase—and you're not," we were with him through thick and thin—and he can be both. He can also be, in about every third gag, tasteless or close to it; but if you can bear that, you'll get a lot of laughs as a Chaser. For example: "Still to come … four million die in Turkey and Arlene visits an art museum." We had reservations about his swipe at David and Julie Eisenhower, and his joke about George Wallace and his wheelchair was questionable, but he won us over with his running gag about our accident prone Chief Executive, i.e., "While in China, President Ford plans to fall off the Great Wall." But taste in humor is perilous territory, as personal as humor itself. There are those who may take offense at the man who presents the news for the hard of hearing-he screams the headlines-but to us, at least, it's very funny when he hollers, "OUR TOP STORY TONIGHT …"
Other regulars include the Muppets (several new, late-night characters made especially for this show) and Albert Brooks, a comedian who presents little comic films. They have not provided as much enjoyment as the satiric newscasts, but, generally speaking, the sketches here are far better than those in most variety shows. Many have been intrinsically funny as well as satiric, such as a parody of "Jaws," the George Plimpton-style man who gets a chance to be "Heart Surgeon for a Day," and a "Godfather" spoof of Marion Brando as an exterminator (of cockroaches). There were also take-offs on commercials (for a tonic called Jamitol and an outfit called The Ambassador Training Institute) and a wry Bee Centennial Minute ("A bee named Henry left his hive . . .").
Of the hosts we've seen, we have two favorites. One was Lily Tomlin, whom we were crazy about in general (although we were uncrazy about her tasteless song-letter to Patty Hearst). The other was Robert Klein, who can be funny about anything, from his days in the Air Force ("Prepare to laugh, ho!") to his movie career ("My films show up on double bills along with 'Kill Me, Throw Me, Whip Me, Hurt Me' ").
All in all, if you haven't seen Saturday Night yet, you're missing some rare-if uneven-fun.
New York magazine, Oct. 27, 1975: Two weeks after its debut, Jeff Greenfield emphasized the influence of New York City on the SNL style (and quoted Chevy Chase and George Carlin dissing L.A.). He also highlighted the creators' attitudes about creating comedy for the television generation.
"[T]he promise of Saturday Night is enormous. "TV has not yet had a show for people who grew up with TV," says producer [Lorne] Michaels. "Carol Burnett's skits are very funny, but they're written by people 45–50 and they're about those problems—life in the suburbs, infidelity, alcoholism, divorce."
"It's the first time we can have parody without Paul Lynde or Carol Channing screwing it up," says Michael O'Donoghue. "This is a show for us."
Vulture has its sister magazine's full review available here.
The New York Times, Nov. 30, 1975: Under the headline "Sprightly Mix Brightens NBC's 'Saturday Night," John J. O'Connor saw the show improving after an uneven start, but warned it might not be around too long:
The future of "Saturday Night" is uncertain—intentionally so. [Producer Lorne] Michaels and company are especially anxious about avoiding the pitfalls of being slick, coy or predictably routine. [Chevy] Chase is already wondering if the "Weekend Update" has run its course. The modus operandi seems to be that if it works, drop it, try to develop something else. For however long it lasts, "Saturday Night" is the most creative and encouraging thing to happen in American TV comedy since "Your Show of Shows."
Read the full story here.
The Washington Post, Nov. 8, 1975: Tom Shales, who would later write the book on SNL, saw early on that the show's satire was something special:
"NBC's Saturday Night" can boast the freshest satire on commercial TV, but the show is more than that. It is probably the first network series produced by and for the television generation-those late-war and post-war babies who were the first to have TV as a sitter. They loved it in the '50s, hated it in the '60s and now they are trying to take it over in the '70s."
Read the full story (for a price) in the Post's archives.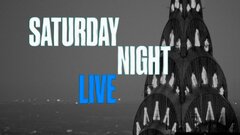 Powered by