Watch: Maggie's Ex Emily Shows Up on 'Supergirl' and We're Not Having It
OK, lady, we're sure you're lovely but you need to back the hell off Sanvers!
Sorry, just getting a little protective of Maggie (Floriana Lima) and Alex (Chyler Leigh), who shows more strength than even a Kryptonian in this exclusive clip that sees National City's supercouple running into Maggie's ex, Emily (Hayley Sales).
Ugh, Emily…with her umbrella and smart rain coat and lingering glances. Look at her, you just know she's going to be trouble. Who is able to keep such perfect curls in that weather, anyway?! "We should catch up sometime." No you shouldn't, you should take that giant attache case of yours and hit the road, Emily.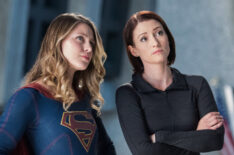 See Also
The actress says the role took on new meaning for her after the Orlando nightclub shooting.
It's awfully convenient that this one shows up the same week aliens find out that there's a bounty out on Supergirl (Melissa Benoist). And don't even get us started on the fact that the character is listed on IMDb as being back for the season-three premiere. A lot can change between now and then, Em. So just, you know…watch it. The #Sanvers crowd will not go easy on you, trust us!
Check out the run-in below and let us know what you think of Maggie's former flame in the comments section. In the meantime, we're gonna need another yoga class to calm down.
Supergirl, Mondays, 8/7c, The CW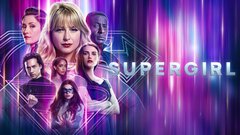 Powered by