Dwayne Johnson's Troubled Youth Inspired HBO's 'Rock and a Hard Place'
Before he was a football star, pro wrestling icon and one of the most bankable figures in Hollywood, Dwayne "The Rock" Johnson was a young man putting his future at risk.
Johnson's own troubled youth inspired the new HBO documentary special Rock and a Hard Place, an in-depth look at the Miami-Dade County Corrections & Rehabilitation Boot Camp Program and the incarcerated young people looking for a second chance. Kids who enter the program can trade a prison sentence for this intensive 16-week camp that includes physical training, military-style discipline, anger-management classes and vocational skills training. The program reports a recidivism rate under 15 percent, while the national rate of prison recidivism is about 70 percent.
"By the time I was 16, I had been arrested multiple times for a variety of things, and can relate to what these kids are going through," he says.
The film follows Johnson, who is also an executive producer, as he visits the boot camp to witness the induction of 38 new program participants who've been convicted of a wide range of crimes carrying lengthy prison sentences. He also participates in the graduation ceremony for those who've completed the program and taken advantage of the opportunity to start over.
Celebrity Page sat down with the film's co-directors for an exclusive sneak peek. Check it out below and Friday night on Celebrity Page (check your local listings).
Rock and a Hard Place, March 27, 10/9c, HBO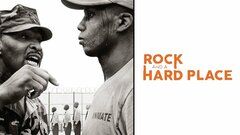 Powered by