Valerie Bertinelli on Judging Kids Baking Championship, Parenting, Pressure, and Bruschetta
Hot in Cleveland star Valerie Bertinelli has teamed with chef Duff Goldman to judge Kids Baking Championship, where one of eight contenders–ages 10 to 13–will pocket $10,000. Goldman is the dessert expert, of course. But it's Bertinelli who sweetens the deal.
You're so good with these children. What's the toughest part about judging them?
I can't bear the tears! I try to be Miss Positive, especially when the kids screw up a recipe, but there's one episode where even I make 'em cry. I really hesitated when Food Network asked me to do this show. I said, "I don't want to crush their dreams!" But these kids so surprised me. They are strong and impressive and, frankly, pretty damn intimidating.
Are you one of those moms who think everyone's a winner?
Oh, not at all. We're now in this era where everybody gets a trophy because everybody played. That's not the way the world works, actually. It's good to toughen kids up a bit–but always with an open heart.
You have no problem disagreeing with Duff.
And he has no problem disagreeing with me. But we have bigger issues than who made the better cupcake. I hate his football team, the Baltimore Ravens, and he's not happy about that. I keep telling him, "They're the old Browns. Get over it."
How would you do in a food competition show?
I'd fail miserably! I don't do well under pressure. I'm slow. That ticking clock would kill me. I was asked to do Chopped and said,
"No way." It takes me half a day just to cut the vegetables for my gumbo.
Your 2012 cookbook, One Dish at a Time: Delicious Recipes and Stories From an Italian-American Childhood and Beyond, is part kitchen primer, part emotional experience.
I still have my grandmother's old rolling pin. I bring it out every time my husband [Tom Vitale] and I make pizza, and it's like she's with me. I remember watching her in my Aunt Adeline's basement preparing her gnocchi and cappelletti. She'd make bread and always fix
a special little fried one for me. The memories! To me, food is love, which is probably not a good thing. [Laughs] That's why I go to SoulCycle and work out like a crazy person.
Born 'n' Bread
"I've never met an Italian who couldn't cook," Bertinelli says. "They don't exist!" Here's a favorite from the old country.
Bruschetta
15 servings
Ingredients
3-6 garlic cloves
2 cups chopped, fresh tomatoes–heirloom, Roma, or Campari
10 fresh basil leaves, chopped
12 Kalamata olives, pitted
1 tablespoon balsamic vinegar
1 tablespoon extra virgin olive oil
Salt and pepper, to taste
Long, thin French baguette
Instructions
Chop garlic as fine as you'd like. Chop tomatoes into small chunks, keeping seeds and juice. Remove stems from basil leaves and chop into thin strips, then chop strips in half. Quarter olives. Stir garlic, tomatoes, basil, olives, vinegar, oil, salt, and pepper in mixing bowl and let sit. Slice bread on the diagonal into half-inch tall pieces. Toast in oven so slices brown on both sides. Spread a heaping tablespoon of bruschetta mixture over each piece of toast. Enjoy…and kiss away, garlic be damned!
Kids Baking Championship, Mondays, 8/7c, Food Network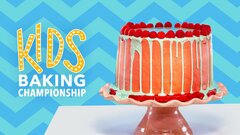 Powered by