First Look: Gotham's New Queen of the Underground
"Let's talk straight. I have a plan."
Finally, The Penguin met The Riddler. And yes, Todd Crane turned his son into The Scarecrow. But it was Maria "Fish" Mooney (Jada Pinkett Smith) who won Gotham last night with her indomitable spirit and the tease of something big on the horizon.
Because Fish is the only main character original to the show, we are denied any reference to canon; we are unencumbered by the expectations that come with knowing the future. It just makes watching her story develop all the more exciting. Sure, she may be imprisoned with the dregs of the earth, but as illustrated in this shot from next week's episode, "The Blind Fortune Teller," she's already found a way to wind up on top.
"My name is Fish Mooney and I'm in charge now" she told her new minions-to-be. "Up until now there's been no order in here, no structure. Things are gonna change."
In addition to using this poor dude as your soap box, we can't wait to see how, Fish!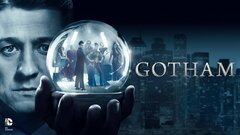 Gotham
where to stream
Powered by