Ben Vereen Makes Yassir Lester Sweat on 'Making History' (VIDEO)
He's come a long way from "Pippin," but Broadway legend Ben Vereen still knows how to entertain…even the uneasily amused among him, like Making History's Chris (Yassir Lester). In this exclusive clip from tonight's episode, Vereen—last seen in Fox's Rocky Horror remake—pops in as the uptight educator's aging mentor, Dr. Corbell, to let the young man know that he's up for tenure at the college where he and oddball buddy Dan (Adam Pally) have been messing around with time travel.
Of course, while the slightly shifty Corbell's news is huge, it is delivered in probably the strangest place imaginable. But hey, what better place to make a guy sweat over his future, right?
Making History, Sundays, 8:30/7:30c, Fox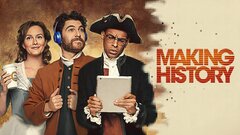 Powered by