'Making History' star Adam Pally Talks First Roles and 'Happy Endings'
Move over, Rocky Horror. Fox is doing the time warp again with Making History, a new comedy starring Happy Endings' Adam Pally (near right, with Yassir Lester) as a Massachusetts college professor who has figured out how to jump back in time to the Colonial 1700s—where he messes up the present day and hooks up with Paul Revere's daughter (Leighton Meester). In honor of the new show, we decided to give Pally a brief history quiz about his own professional past.
HIS HIGH SCHOOL TRAINING "I didn't do shows in high school, but I think I was voted Hollywood Hopeful…which a lot of the theater kids were upset about because I'd never done a play."
HIS FIRST ROLE "The day I graduated from the Actors Studio, I booked a commercial for Monster.com."
THE FIRST ROLE HE WAS FIRED FROM "I was fired from that Monster.com commercial the morning of filming because I lied and said I could ride a bike 'expertly.' I can ride a bike—who can't? I just didn't think that meant under the Brooklyn Bridge, across cobblestones while pumping my fist in the air like I'd gotten a job."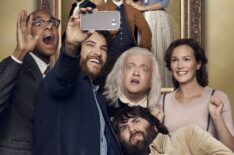 See Also
The star and creators of Fox's time-travel comedy mess with the past.
THE FIRST ROLE HE DIDN'T GET FIRED FROM "It was an embarrassment of luck, but my first paying film role was in Taking Woodstock, directed by Ang Lee. It was a small role, but I made the most of it."
HIS FIRST TV ROLE "That's Happy Endings. What's so cool is that I was 27 when I got that and still, any set I walk onto, that is the vibe I want. I know it so clear and am sometimes able to re-create it. Making History's vibe is very similar."
Making History, Series Premiere, Sunday, March 5, 8:30/7:30c, Fox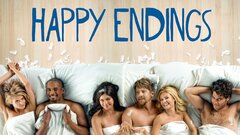 Powered by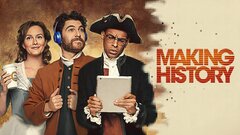 Powered by