'Switched at Birth' Welcomes Back a Familiar Face For Episode 100 (PHOTOS)
Freeform's family drama Switched at Birth is hitting a milestone on March 21—100 episodes—and it is filled with major moments for our favorite characters.
Now, you're probably wondering about the return of Angelo (played by guest star Gilles Marini), who is bathed in light in the above behind-the-scenes photo with Daphne (Katie LeClerc). Well, in the episode, titled "Memory (The Heart)," Bay (Vanessa Marano) and Daphne meet a "mysterious young woman" who reminds the two of their deceased dad Angelo, who passed away from a brain aneurysm in Season 3.
See Also
Check out this exclusive fast-forward through the Freeform comedy's fourth season.
We're guessing this scene involves Daphne imagining a moment with her former fake father (who is really Bay's biological pop), where she forgives him for leaving her and her mom way back when and all the subsequent drama he caused. Maybe that's just wishful thinking.
Elsewhere, Melody (Marlee Matlin) asks her sons to atone for their behavior, and Toby (Lucas Grabeel) finds himself stuck in a religious battle with his mom (played by Lea Thompson, who directs this episode) and his wife.
Check out the exclusive photo from the episode below. Plus, more behind-the-scenes shots!
Switched at Birth, Tuesdays, 9/8c on Freeform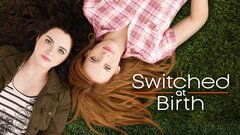 Powered by