'The Goldbergs' and 'Imaginary Mary' Invade WonderCon 2017
A family from the 1980s and a modern-age tale of a woman who sees her childhood imaginary friend will be a part of WonderCon 2017. ABC's comedy The Goldbergs and new sitcom, Imaginary Mary, will have panels at the annual event at the Anaheim Convention Center in California.
In Imaginary Mary, which premieres March 29 on ABC, Jenna Elfman stars as a single woman who falls in love with a divorced man with three kids who starts to see her imaginary friend Mary (voiced by Rachel Dratch) as a result of the pressure of her new relationship. The second episode will be screened at 3:30pm PT on Friday, March 31, followed by a Q&A with Elfman, Stephen Schneider and executive producers Adam F. Goldberg, Doug Robinson, David Guarascio and Patrick Osborne. The panel will be moderated by TV Guide Magazine's Jim Halterman.
The Goldbergs, the 80s-set sitcom starring Wendi McLendon-Covey and Jeff Garlin as the patriarchs in the wacky titular family, will panel after Imaginary Mary from 4:30 – 5:30pm PT on Friday, March 31 with a screening of a new episode. Following the episode, a Q&A with cast members McLendon-Covey, Garlin, executive producers Goldberg and Robinson, and director Kevin Smith, who helmed the episode being screened and will moderate the Q&A. In the episode, entitled "The Dynamic Duo," movie-obsessed Adam (Sean Giambrone) and his grandfather (George Segal) have very different reactions to the 1989 film, Batman.
For more information on WonderCon, visit the website.
Imaginary Mary premieres with a special episode on Wednesday, March 29, at 8:30/7:30c on ABC after The Goldbergs before moving to Tuesdays at 9:30/8:30c beginning April 4.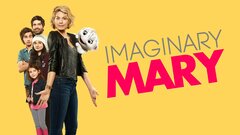 Powered by
Powered by