Geoffrey Rush Blinds Us With Science as Albert Einstein in Nat Geo's 'Genius'
If anyone asks Geoffrey Rush, "Who do you think you are, Albert Einstein?" he can answer, "I was, once." The Australian actor stars as the world's most influential scientist in Genius, National Geographic Channel's new anthology about innovators—and the network's first scripted series. (Rush plays Einstein as an older man; Johnny Flynn is the younger version.)
Rush's résumé is full of biographical roles. He won an Oscar for playing mentally disordered pianist David Helfgott in Shine and an Emmy for the title role in HBO's Life and Death of Peter Sellers. The 65-year-old shares his enthusiasm for the story of the German-born physicist, whose theory of relativity changed our perception of space and time while he (and his trademark white hair) became, Rush says, "a pop-culture icon as famous as Charlie Chaplin."
Did you jump at the opportunity to play one of the world's greatest brains? I actually declined, because I had made a commitment to edit and pitch a TV series my wife [Jane Menelaus] was writing. Thankfully the producers Brian Grazer and Ron Howard shifted the schedule for me. Now that I'm an old character actor—I played King Lear last year on stage in Australia—Einstein is a great part. He's a protagonist in a very epoch-making scenario.
We know about Einstein's equation E=mc² and that he won a Nobel Prize for physics. What else will viewers learn about him? He was a humanitarian; totalitarian thinking of any kind was anathema to him. He saw that in Berlin during the rise of [Naziism]. He believed that scientific inquiry would be for the betterment of humankind, so his great moral dilemma was his accidental involvement in the making of the atomic bomb, unleashing a weapon through science that can destroy the planet. He's a great classical antihero to play, above and beyond the soap opera of his life.
Einstein had drama? Well, he had several marriages, the first with a Serbian scientist and the second with his first cousin, Elsa. He had affairs during both and he was estranged from his children.
See Also
The ad is National Geographic's first-ever Super Bowl spot, and debuts right after Lady Gaga's halftime show.
Did assuming his iconic hair help you get into character? I met with the costume, makeup and hair designers so I could look carefully at the authenticity and the reasoning behind where the hair came from. Einstein was definitely eccentric, and it was more than the bohemian hair. He'd show up on the Princeton University campus in pajamas! And there are photos of him wearing his wife's slingback shoes because they were nearby when he wanted to take a walk. He didn't like orthodox social thinking.
After researching the character and his work, can you understand some physics? I actually studied advanced math in school. I was obsessed by the space program and the mysteries of the cosmos, so I wanted to be an astronomer. Then I discovered the school drama club and it was a turning point in my life. Still, I had some extremely difficult days on set when Einstein was involved in humorous fast-flowing debates with Niels Bohr, the Danish physicist [David Dencik]. We were pretty much like Laurel and Hardy, two geeks debating quantum mechanics versus the theory of relativity. Luckily, we had physicists on set [to help with the dialogue].
This is your first U.S. TV series. Is Genius particularly satisfying because you have 10 hours to explore the character? It was a great opportunity because you don't have to try to shoehorn a life into two hours; you get to let it breathe and go deeper.
In your next movie you play another historical figure, Swiss sculptor Alberto Giacometti. What draws you to real-life roles? They send out very welcoming signals to me as an actor, especially when they are idiosyncratic antiheroes. I really enjoy getting into these characters' psyches.
Genius, Series Premiere, Tuesday, April 25, 9/8c, National Geographic Channel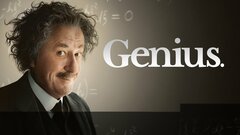 Genius
where to stream
Powered by