'Homeland' Scene Stealer Elizabeth Marvel on Playing the First Female President-Elect of the United States
She Plays Elizabeth Keane, the first female president-elect of the United States. Still, says Marvel, the former New York senator isn't based on Hillary Clinton but more on George W. Bush. "Like him, Keane's an energetic, on-the-move kind of person." She also borrowed "Robert Kennedy's gift of eloquence" and the "dignity, bravery and tenacity of Shirley Chisholm," the first African-American woman presidential candidate, for her "political animal" character.
Where You've Seen Her Before She's played powerful women in House of Cards, Law & Order: Special Victims Unit and Person of Interest. "I'm well-suited for those kinds of roles, because I can access strength and gravity—but try telling my 10-year-old son that I am the president!" she jokes. The NYC-based actress, who's married to fellow actor Bill Camp (The Night Of), has also been a tap-dancing maniac on Nurse Jackie and a salon owner with sapphic designs on Kirsten Dunst's beautician in the second season of Fargo. "[Fargo] was a blast," Marvel recalls. "It's wonderful when I'm asked to do anything that's comedic."
See Also
Is Quinn still alive?
Why We Love Her Marvel skillfully relays all the colors of this brainy and determined character. Keane may be a progressive, but she's tough enough to stand up to amoral CIA operator Dar Adal (F. Murray Abraham), who aims to destroy her before she takes her oath. She can even go toe-to-toe with Carrie Mathison (Claire Danes), the show's stubbornly flawed hero. Keane can dominate a room but, unlike many of TV's women in authority, maintain a serious sense of humor. The actress's deft portrayal fits right into Homeland's well-honed web of political maneuvering, deception and ambiguity. "You believe her from the first minute you see her," says Homeland executive producer Alex Gansa. "She's sharp, commanding and complex. I find her very hard not to watch."
Homeland, Sundays, 9/8c, Showtime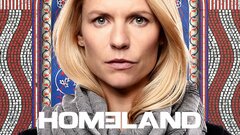 Powered by