What's Worth Watching: Will Cookie Crumble on Empire?
Empire, "Dangerous Bonds" (Wednesday, Feb. 4, 9/8c, Fox)
Forget shoes…Porsha (Ta'Rhonda Jones) will picking up Cookie's jaw from the floor when Empire Record's resident ex-con (Taraji P. Henson) discovers an anonymous but familiar gift at her doorstep. Is it from a secret admirer or is someone from her prison past sending a message? Knowing that this woman has nothing but bad luck on her side, we're willing to bet that the person behind the present has more in store for Cookie than sweet nothings. Especially after she takes the stand in the grand jury case against Frank Gathers.
Speaking of unexpected twists, it looks like Hakeem (Bryshere Y. Gray) might not be the only one hooking up with Tiana (Serayah.) At least he can count on being the lone Lyon at the center of the action when he shoots his new video. If Lucious—who has an 18-karat offer for Anika (Grace Gealey) —can let someone else have the spotlight, that is.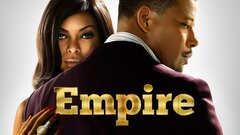 Empire
where to stream
Powered by