Fox Gets Real with Pilots From Weezer's Rivers Cuomo and Entourage's Kevin Connolly
Say It Ain't So… there's going to be a Weezer sitcom!
Well, maybe. Fox as ordered the single-camera comedy pilot Detour, based on the true tale of Weezer frontman Rivers Cuomo, who took a sabbatical from the band and went back to college. (We all know how it ends, of course: Back in Beverly Hills, 'cause that's where he wants to be — Gimme Gimme — living in Beverly Hills.)
Steve Franks (Psych) wrote the pilot and executive produces with Cuomo, Dan Field, Willie Mercer and Chris Henze. (Let's hope Mary Tyler Moore is cast as a professor, just for the pure meta-ness of it all.)
Also at Fox, the network has ordered the multi-camera comedy Fantasy Life, starring Entourage's Kevin Connolly. The show is based on the book "Fantasy Life," by Matthew Berry, the man known for popularizing fantasy football across the nation.
In Fantasy Life, Connolly plays a man who must navigate office politics after he lands his dream job, hosting a fantasy football show. Tim McAuliffe (Satisfaction) wrote the pilot and is executive producer. Connolly and Berry are also executive producers, along with Michael Rotenberg, Jonathan Berry, Greg Walter and Troy Zien.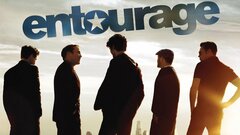 Powered by