5 Questions With Rachel Keller of FX's 'Legion'
In Chapter 1 of FX's Legion, David (Downton Abbey's Dan Stevens) took one look at Sydney and fell in love. Unfortunately, David could look, but he couldn't touch.
In Legion, Rachel Keller (FX's Fargo) plays beautiful, but haphephobic (that means she's terrified of physical contact) mental hospital patient Sydney Barrett, whose arrival at the facility sparks all kinds of feelings for David Haller. Their relationship leads to events that reveal David's superpowers to a sinister agency looking to exploit them.
See Also
Series stars Dan Stevens, Rachel Keller, Jean Smart, Jeremie Harris, Amber Midthunder and executive producer John Cameron preview what's to come on the FX drama.
"The story is entirely about the messy, complicated nature of being a person, being a human who is trying to relate to the world around him, his past, his relationship, [Sydney's] wants and needs," Keller says. "Sometimes it's dark, sometimes it's confusing, and sometimes it's hilarious and really touching." Well, not literally touching.
We got into Keller's mind with our probing "5 Questions":
1. What is one of your strangest or funniest fan encounters?
My favorite and maybe only time I've been recognized for Fargo, I was actually standing with [series creator] Noah Hawley. Someone came up to us and was like, 'Excuse me, are you in Fargo?' And I thought it was funny that they didn't recognize him, but recognized me! I was like, "Can I introduce you to someone? The creator!"
2. Tell us about a time when you were completely starstruck.
I had a moment when I saw Bryan Cranston at the Emmys, and his wife told me that I had her favorite dress of the evening. And I thanked him for his work on Breaking Bad, and we laughed about having Jesse Plemons in common from Fargo and from Breaking Bad. He was lovely. But I was like, "Hi! Hi! Hi! You don't know who I am, but I know who you are!"
See Also
The third season stars Ewan McGregor, Carrie Coon and Mary Elizabeth Winstead.
3. What's your favorite sports team?
The Minnesota Vikings. The Vikings, hands down. Love those guys. My little brother keeps me abreast of all the things. I'm a sideline fan. I'm like, "Yeah, the Vikings! Adrian Peterson! Randy Moss! Daunte Culpepper!" Remember him?
4. What's a movie you can watch again and again?
Titanic. It's a really lovely movie. I'm a huge Kate Winslet fan. And I love Leo. And I love the epic and intimate nature of that story.
5. What are three foods you have to have in your fridge or pantry at all times?
Ezekiel bread, eggs and butter. That's like my morning. That's how Rachel becomes a person in the morning. Eggs and toast, that's how I enter the world.
Insanity loves company. #LegionFX pic.twitter.com/CIOeyDAkm8

— Legion (@LegionFX) February 11, 2017
Legion, Wednesdays, 10/9c, FX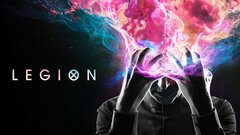 Legion
where to stream
Powered by