What the Heck Is Happening on 'Legion'? (And Other Burning Questions)
Legion—FX's visually stunning, ambitious Marvel drama from Fargo showrunner Noah Hawley—debuted on Wednesday, but odds are good viewers are a bit confused about what the heck is going on. (And they aren't alone: series star Dan Stevens admitted he had his share of questions about the project, too.)
But what comes next? And what were the actors told to get them to sign on? They shared what they could on the show's Vancouver set.
When in doubt, say yes to Hawley.
Jean Smart (Melanie) and Rachel Keller (Syd) were fresh off Fargo Season 2 when Hawley approached them about being in Legion. However, "this one was a mystery grab bag," Smart told us. "Noah said, 'I'm doing a new show and I want you to be in it,' but he didn't tell me what it was about. But because I worked with him, and I think he's brilliant, and I had such a good time on Fargo, I said, 'I don't care what it is, I'll be there.' I didn't even know it was about X-Men!"
Similarly, "it didn't matter [to me] what we were doing," Keller said. "It didn't matter; yes, sign me up." The experience was slightly different than their time on Fargo—whereas the second installment had six scripts to work with when Keller started, "this is from the ground up," she said. "This is asking a lot of questions, continuously trying to hone in the look of it, the feel of it, what do people sound like, what should they be doing?"—the joy of working with Hawley was consistent. "I think that's part of why working with Noah can be so engaging: the conversation never ends," Keller said. "And he doesn't always give answers; he just presents you with a lot of space to ask questions. Which can be a scary creative place to be, but I wouldn't want to be anywhere else."
See Also
The series comes from Fargo's Noah Hawley.
What should viewers trust?
Thanks to his powers and possible mental illness, Stevens' David is epitome of an unreliable narrator. And what viewers should believe (or trust) is "a major theme" of the series, executive producer John Cameron said. "The show can be a little confusing in a good way—hopefully an intriguing and engaging way. But that's because there are different layers of reality in it. I think there's always a hovering question as a viewer: is this real? Is this true what I'm seeing? Or is this an aspect of David's subjective view? It's also a show about memory and the unreliability about memory. There's also is it a real memory or a planted memory? There's lots of layers of possibility in the sense of what is real and what isn't real."
Who are the people trying to help David?
Much of Legion's first hour introduced viewers to David and Syd, but he broke out of the institution at the end of the episode as part of an epic battle…and was welcomed by Melanie and her associates.
As the show was deep in production, Smart acknowledged "I'm still trying to get to know her. She's a mentor, rescuer, therapist, house mother. If it was a James Bond movie, I would be M. Send people out to do dangerous things while I stay at home!"
Kerry (Amber Midthunder) and Ptonomy (Jeremie Harris) also have a unique partnership. "I think we've come to depend on each other for different things," Harris said. "I think I definitely can defer to her for security; I trust her to handle all matters physical. I've grown to care about her."
See Also
The new series is a unique take on the comic book series.
"We're the action team," Midthunder added. "Kerry is very action-based, very strong. She's very physical. She really wants to lead the charge, very eager, but not without things to learn."
Ptonomy, however, "is very practical in a lot of ways," Harris said. "He's seen so much. He deals a lot with people's memories. He's straightforward. He doesn't like to beat around the bush. He likes to say things and get things done in the most efficient ways possible. I try to think about that: someone who has seen a lot and experienced a lot and doesn't have time for a lot of the BS, I guess, of the emotions."
Can David and Syd's unique relationship work?
David was smitten with Syd the moment he saw her…but can that last? "Syd is a very hopeful presence in David's story, I think," Stevens said. "There's definitely an exploration of love. But it's not plain sailing."
Of course, not being able to touch has led to an interesting challenge for both the characters and the actors. "Creating a relationship based on something other than touch has been something interesting to work through," Keller said. Plus, she teased, "we start somewhere and we think something is going to happen and then we go somewhere else."
Legion, Wednesdays, 10/9c, FX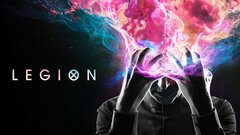 Legion
where to stream
Powered by