'The Walking Dead': How Rick and Company Are Living in Negan's World
It's not about the zombies. Never has been, really.
AMC's The Walking Dead, now in its seventh season, continues to earn monster ratings with its apocalyptic tale of a world overtaken by flesh-eating corpses. In fact, the horrifying and controversial October 23 episode, in which good guys/audience favorites Glenn (Steven Yeun) and Abraham (Michael Cudlitz) were bashed to death by the show's new baseball-bat-wielding supervillain, Negan (Jeffrey Dean Morgan), drew an audience of 17 million—the second-highest rating in the program's history. It also marked an epic shift in the series. Gradually those hordes of voracious cadavers have become, for the most part, rather manageable, and it's now time to face the harsh truth foreshadowed in Robert Kirkman's acclaimed comic book series: The dead aren't the real threat here.
"It's increasingly clear in the world of TWD that the bigger problem is the living," Morgan says. "By now, pretty much every character has figured out how to deal with the zombies, but they haven't figured out how to deal with each other, and that is a far greater danger to what's left of mankind. Now this is Negan's world, and the viewers are going to have to strap it on and live in it with us."
This increasingly hopeless scenario—and the continued loss of beloved characters—comes with no apology from executive producer Scott M. Gimple. "Yes, this season has been brutal," he concedes, "but it's like Krypton exploding or Bruce Wayne's parents dying or Luke Skywalker leaving Tatooine. This is our story. This is what propels us forward. We're asking the audience to have faith and fight the fight, right alongside the characters they love."
RELATED: The Walking Dead's Four Major Communities, In Brief
But first you'll have to find them. TWD's end-of-days survivors are now scattered among four diverse communities: Crossbow warrior Daryl (Norman Reedus) is being held captive at the Sanctuary, a heavily armed fortress from which Negan and his goon squad, the Saviors, offer protection to their neighbors in exchange for food and other resources. Glenn's pregnant widow, Maggie (Lauren Cohan), is squirreled away getting medical attention at the Hilltop, a farming commune. And fresh this season is the Kingdom, a repurposed high school where an ex-zookeeper calling himself King Ezekiel (Khary Payton) holds court—with a Bengal tiger named Shiva by his side—over a delusionally happy fiefdom and his newest "subjects," Carol (Melissa McBride) and Morgan (Lennie James).
Then there's the Alexandria Safe-Zone, an upscale suburban enclave that's been home to the once-wandering band of heroes led by Rick Grimes (Andrew Lincoln). Oh, Rick still lives there all right, along with his lover, Michonne (Danai Gurira), his son, Carl (Chandler Riggs), and several followers, only now they're all under the sadistic thumb of Negan, who has confiscated their firearms and taken away their beds. In fact, Rick is in such an emotionally frazzled state, "he's actually feeling grateful to Negan for sparing Carl's arm" in the season premiere, says Lincoln.
"The relationship between these two men can in no way be called a rivalry," Gimple insists. "Rick was a powerful and relentless leader, capable of surmounting every obstacle, who collided with an immovable force. Now he must adjust to life as Negan's servant." OK, it's not all bad. "Rick and the gang still have roofs over their heads, walls to keep out the zombies, and are in no immediate danger," Gimple says. "There's no more, 'How do we get through the night?' But that they could handle. Now it's, 'How do we get through the rest of our lives living like this?'"
The loss of power and self-esteem threw Lincoln for a loop. "I asked Scott if I should be playing Rick with maybe a glimmer of hope or a sense of resistance or perhaps even a hint that he has something up his sleeve," Lincoln says. "The answer was an unequivocal 'No! The man is shattered. The man is smashed.'"
As painful as that is to watch, it's creatively wise, mandatory even. "All the fan uproar over what's happened to Glenn and Abraham and Rick means that the series remains relevant after all these seasons," says Chris Hardwick, host of TWD's postshow analysis series Talking Dead. "Not many programs can still hold a big audience this far into their runs or continue to be appointment viewing. Waiting to binge-watch a show is like a hookup. Watching TWD on Sunday nights is a real relationship—you invest and you hang in through tough times."
Which are likely to get even tougher. With a Season 8 already set by AMC, Gimple notes there are at least two dozen more hours of story to tell and that Rick and Co. "may find a way to go on that's beautiful or sad or exciting or touching—or things may turn even darker for them."
RELATED: The Walking Dead's Greg Nicotero and Negan's First Victim Discuss the Season 7 Premiere
For now, a few rays of light shine through. Daryl, who's been fed dog-food sandwiches while in prison, is "fighting hard not to sell out to Negan and become a Savior," Gimple says. "And he will soon start having interaction with people from outside the Sanctuary." Over at the Kingdom, there are hints of a flirtation between Ezekiel and Carol (or perhaps even a triangle with Morgan?). In typical TWD fashion, Payton won't confirm or deny—but he isn't ruling out a love match. "Ezekiel, who may be the sanest person in this crazy, crazy world, loves Carol's strength and fire and he needs her to help lead his community," the actor says. "But nobody is ever smart enough not to jeopardize things with a romance, are they? It's the way of the world."
Of course, Ezekiel could have a more pressing matter on his hands—he's secretly been letting his pigs feed on zombies, then gives the pork to Negan and his men in payment for protection. "Thus far, Negan's still skipping around doing just fine, so there are no apparent short-term effects of eating that pork," observes Morgan. "Maybe there are long-term consequences we don't know about yet. Or maybe, like a waiter who spits in your food, this is just Ezekiel saying 'F–k you.'"
RELATED: The Walking Dead: Bigger World, Smaller Episodes
Either way, this can't end well. "Until then, Negan's sleeping pretty soundly—in fact, he's sleeping a hell of a lot better than I do!" Morgan says. "Nothing scares him. He's like a duck letting everything roll off his back. He's got this world wired like nobody else on this show ever has."
His costar's not having it. "Rick is gonna kick Negan's ass," says Lincoln, "and he'll come back a bigger, braver and stronger leader than ever before." Wait, is this an actual scoop? "No," says Lincoln with a laugh. "But it's certainly what I'm hoping for."
The Walking Dead, Sundays, 9/8c, AMC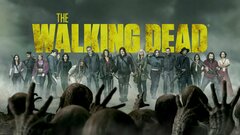 Powered by