Daniel Lissing Put His 'Heart and Soul' Into 'When Calls the Heart' Season 4
Hallmark Channel's sweeping frontier drama, When Calls the Heart returns on Sunday, February 19, and fans of the show, known as "Hearties," are hoping that this is the season series heroine, Elizabeth Thatcher (Erin Krakow) will become engaged to her handsome Mountie beau, Jack Thornton (Daniel Lissing).
The series had a close call in the push for engagement; in December's When Calls the Heart Christmas, Jack did get down on one knee in the midst of asking Elizabeth a question. But it ended up being an invitation to the Mountie Ball, and while it isn't the romantic event fans were hoping for, it will have to do…for now.
TV Insider caught up with the series' smooch-worthy male star—whose luscious lips launched the twitter tag, #KissingLissing—to get the scoop on the new season. Lissing reveals, "This season, for me personally, as an actor, is a really special season. I put my heart and soul into this season."
4 things to know about WCTH Season 4
1) In the WCTH Christmas episode, Jack got down on one knee to ask Elizabeth an important question…to be his date to the Mountie ball. That was an incredible tease, Daniel, but fans have to know—when are Jack and Elizabeth going to get engaged?
Daniel Lissing: Wow. I mean I just can't answer these questions without giving anything away! So, I could say this: this season, the fans might get what they want, but not in the way they'd want. [laughs] That's a good tease, right?
2) In season 3 we met Jack's Annie Oakley-like mother, played by Brooke Shields. Who else from his past will we meet this season?
Lissing: You're gonna meet some people that Jack mentored at the academy; one young Mountie in particular comes into to town. That's an interesting story line. I can say, that person initially brings goodwill and light, and then drama ensues.
3) Hope Valley always has interesting characters come and go, who are some of the new faces we'll meet this season?
Lissing: Well, you know, once again this season is really gets into the kids, and one of their characters—it's a great storyline with Elizabeth and one of her students and one of her student's fathers—and then they kinda have an estranged relationship or a strained relationship, rather … and Elizabeth's tries to bring them together.
Then you've got someone else coming into town. We have Paul Greene joining our cast as well. So Niall Matter and Paul Greene joining the cast. We met Niall's character at Christmas, and Paul is a … I'm not gonna give away anything about his character, but I will see he's a really interesting character to be working with. I like where he's coming from. He's got some secrets … and he comes into town and ends up helping out a fair bit.
4) I've heard a rumor that Elizabeth's life isn't smooth sailing, and trouble checks into the school. What can you share?
Lissing: do you know that? Who have you spoken to? [laughs] This season is full of drama, you know? This year is gonna be the most heartfelt, heartbreaking, emotional, funny, light, dark season yet. It's got it all really and that's the way it is with Elizabeth and with the kids. I'll just say this—Elizabeth's past comes back to bite her a little bit and it threatens her teaching position in Hope Valley.
When Calls the Heart, Sundays beginning Feb. 19, 9/8c, Hallmark Channel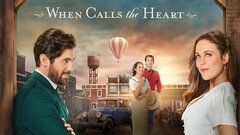 Powered by