My Obsessions: Forever's Ioan Gruffudd
Forever's Ioan Gruffudd answers our questions on his television habits.
The device I watch on:
In bed, when everyone's asleep, on my laptop with headphones. Otherwise, on Apple TV on the big TV.
The only news show that matters:
The Daily Show With Jon Stewart. No one else sheds true light on the unholy mess that the world is in!
What I hate-watch:
Infomercials. My head hates them, but my heart loves them. They are like television crack.
The show I miss most:
Breaking Bad.
My guilty pleasure:
Golf Channel's Golf Central. If I have time to watch it, I must be procrastinating about something!
My dream costar:
My wife, Alice Evans.
My celebrity crush:
Mario Batali. He knows a way to a man's heart is through his stomach!
Forever, Tuesdays, 10/9c, ABC
We'll have to wait till Saturday to find out if Peter responds to Flint's questions with actual answers, action, or just equally intense glowering. The finale will have to grapple with the fallout from Miranda Barlow's (Louise Barnes) murder, not to mention major decisions by Vane (Luke Arnold) and Silver (Luke McGowan.)
Plans for Season 3 are already in motion: Ray Stevenson (Divergent, Thor) has been cast as Blackbeard, the notorious pirate also known as Edward Teach, who'll have "unfinished business" to attend to when the show returns.
Black Sails, season finale, March 28, 9/8c, Starz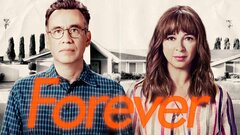 Powered by