'Supernatural': Ruth Connell on Rowena's Attempt to Save Dean's Memories
The Winchester brothers have been to Hell and back (literally) on Supernatural, but in this week's episode they face an unusual problem: Dean (Jensen Ackles) is hit with a spell that erases his memory.
To try and save his brother, Sam (Jared Padalecki) recruits Rowena (Ruth Connell) to help him track down a powerful family of witches—and of course she has her own history with them.
We spoke with Connell about how Rowena helps and interacts with the brothers, and much more.
Where do we find Rowena when the episode kicks off?
The episode opens up in a gambling den. Rowena is passing her time, tricking up whatever she is tricking up. It's almost Rowena trying to have a quieter life, after the end of last season—the almost-apocalypse and Armageddon was too much for her. She actually speaks to that, and why she's on the journey she's on now. You get some of Rowena's backstory in this episode, to do with this witching family she had an interaction with a couple of hundred years ago. You get to see some of the more human element of her.
What was her previous relationship like with the witches we meet in the episode?
Like many of Rowena's relationships, there is some antagonism there. It didn't end well the last time they saw each other. It's not all Rowena's bad. There's a lot of competition in the witching world. There's a thing that she might be hoping to get her hands on. It may be one of the reasons she may be helping the Winchesters, outside of messing around with and getting a rise out of [them]. There's something in it for her, for sure.
How does she react when Sam comes to her for help saving Dean?
I love the little scene where he calls me. She can work out there's something in it for her. She's a bit like Crowley: she truly enjoys being the in the game, the fight, the thick of it. Can probably never really have a really quiet life. Until we know what our bigger purpose is, she'll get muddled up in the trouble of the Winchesters. She can't help herself.
Does she take Sam's concern about Dean seriously or is she having fun with him as this is going on?
She's always, always having fun with the boys. I think to have something to make them beg for is always fun. To get them to put their cards on the table more is always fun. She's a great negotiator. I wish I had some of her ability [personally] as an actor. [Laughs] I wish I was more able to be the negotiator that Rowena is.
Is there anything Rowena does to try and help Dean herself? Or does she instantly realize she's out of her element?
I don't think Rowena would ever admit that something was out of her element; it might not suit her to do something. But she's playing a game. She's one of the most powerful witches that ever lived. If there's a hex, there's a witch doctor. You need to fight fire with fire.
What are her interactions like with Dean as he's losing his memory?
There's so much comedy in this episode. The crew, people talking about it. [Director] John Badham emailed me about it, saying it was a really strong episode for everyone. I love what Jensen gets to do. There's also the sadness of struggling to remember your brother's name. There's a lot to this episode. I'm excited to watch it and the fan's reaction.
How you remember it being filmed and how it ends up is interesting. I remember being in a harness, which is very painful. I'm looking forward to seeing how it all comes out in the mix and with John Badham directing.
I have to ask…why are you in the harness?
I was asking myself that question on set: "Why am I in this harness?" [Laughs] I've got some fun behind the scenes shots I can tweet out after [the episode]. It's the least glamorous thing, it adds 20 pounds to you, and it's never a good look. That's as much as I can say.
Are you in it for a large portion of the episode? Or a quick scene?
It's an important part of the episode. It's not a Peter Pan moment; I was in Peter Pan decades ago. It's not a Peter Pan moment. I don't know how people do it. I'm so glad I was in it for a limited amount of time.
Is there anything about the episode that stands out to you?
For me, I'm really looking forward to seeing the scene with Rowena and Dean; it's more of an intimate scene. I'm really looking forward to that. I'm looking forward to a scene that people were talking about on set with Jensen looking in a mirror. I'm not sure of what makes the cut, but I'm looking forward to that side of his performance. And Jared, we have a lot as well. And the [witch] family.
Supernatural, Thursdays, 8/7c, The CW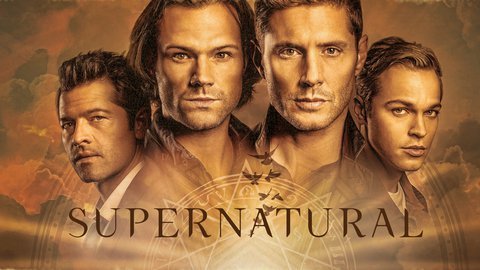 Powered by