Lawyer-Client Relationships and LGBTQ Issues Among Topics in 'Doubt'
"People develop feelings for their lawyer because they're dependent and they're scared, but it isn't real." So says New York attorney Sadie Ellis (Katherine Heigl) to her latest client, Billy Brennan (Steven Pasquale), when he admits he has romantic feelings for her in the premiere episode of CBS's new law drama Doubt. Billy's feelings aren't one-sided, however, since Sadie has also fallen hard—despite the fact that Billy is charged with a 26-year-old murder.
It's the latest homicide case for defense firm Isaiah Roth & Associates, where legendary attorney Roth (Elliott Gould) rules the roost over Sadie (whom he raised after her mother, played by Judith Light, went to jail) and colleagues Albert (Dulé Hill), Tiffany (Dreama Walker), Nick (Kobi Libii) and Cameron (Laverne Cox). "We are crime junkies and law junkies," says executive producer Joan Rater, who created the series with her husband, Tony Phelan. "We missed shows that were character-based and about the defense side of law." Doubt also serves as a reunion for the duo and Heigl, who worked together during the actress's six-year run as Izzie Stevens on Grey's Anatomy. "We were looking and she was looking," Rater says. "We pinched ourselves, because she's perfect for this role."
Heigl was equally excited to take on the part, especially since it was a nod to previous characters she loved playing. "I thought Sadie had a lot of Charlie [from the short-lived NBC series State of Affairs] in that she is really good at what she does, is professional and on top of it, but also has a certain charm and a sense of humor," Heigl says. "She can also be self-deprecating and has that fun quirkiness that I loved about Izzie."
Like Izzie, Sadie has a complicated love life. Why is she willing to put her heart and career on the line for a possible murderer? "Billy is as complicated as she is," says Heigl. "They understand each other in a way that no else really could. And as the season develops, you start to see that she's never really had her person. She's dated a little bit, but she's never been in love, didn't even go to the prom. I think that's what makes her gravitate toward Billy." Billy's case will play out through the show's 13 episodes. "Is he good and innocent and being painted with the bad brush," asks Pasquale, "or is he a successful sociopath and guilty of this crime?"
See Also
Plus, she let's us know if we've seen the last of Sophia on 'Orange is the New Black'
Billy's case isn't the only one keeping the lawyers at Isaiah Roth & Associates billing hours. Cox's Cameron brings in a trans woman accused of killing a man who attacks her. "There's some real revolutionary stuff going on with Cameron," says Cox, breaking ground on a broadcast network as the first transgender actress to play a series-regular role as a transgender character. "When I read the pilot I was like, 'This doesn't seem to be a trans character,' and then more than halfway through there's one little indication. It's really about her being a good attorney who has this capacity to empathize with her clients."
Rater and Phelan have a transgender son (actor Tom Phelan, who has appeared on The Fosters), and their goal was to incorporate LGBTQ characters into the fabric of the series without making gender or sexuality the central part of the story. "I think the lesson we learned at Grey's is that it's so powerful to simply represent, to show LGBTQ characters as people, as professionals," Phelan says. "When we started coming up with this character of Cam, we immediately thought of Laverne." And, yes, Cameron will have a love life.
But it was Heigl's off-screen love life that proved most challenging—the actress was pregnant during filming. (She and husband Josh Kelley welcomed son Joshua Bishop on December 20.) "By the end, they were using background actors who were just short enough that you could still see my head [but they blocked my body]," Heigl says. "My vanity is taking a little beating right now, but next season, if we have one—which I feel really confident about—I will not have to pretend I'm not pregnant. I should have built it into the storyline that she was stress eating!"
Doubt, Series Premiere, Wednesday, February 15, 10/9c, CBS.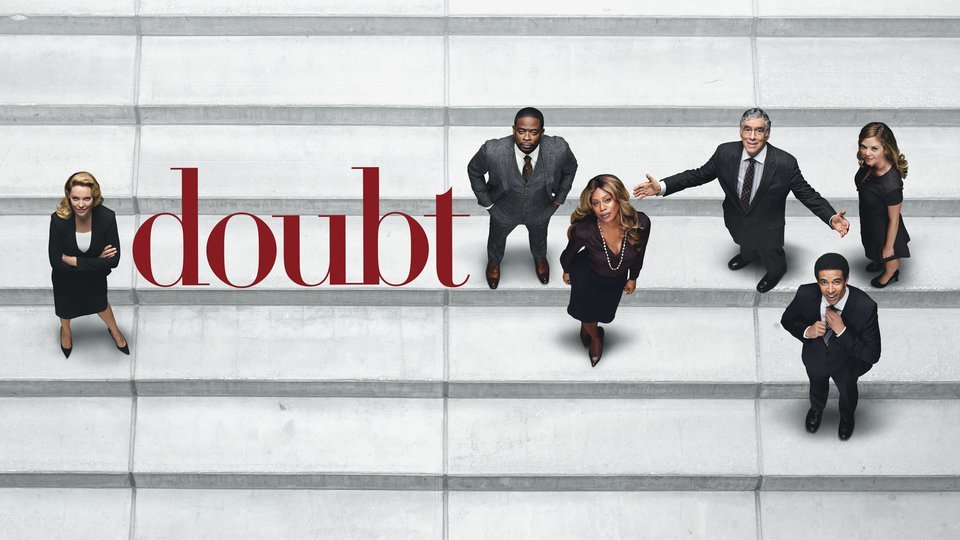 Doubt
where to stream
Powered by