Trump, Schwarzenegger Feud Over 'Apprentice' Ratings Continues at National Prayer Breakfast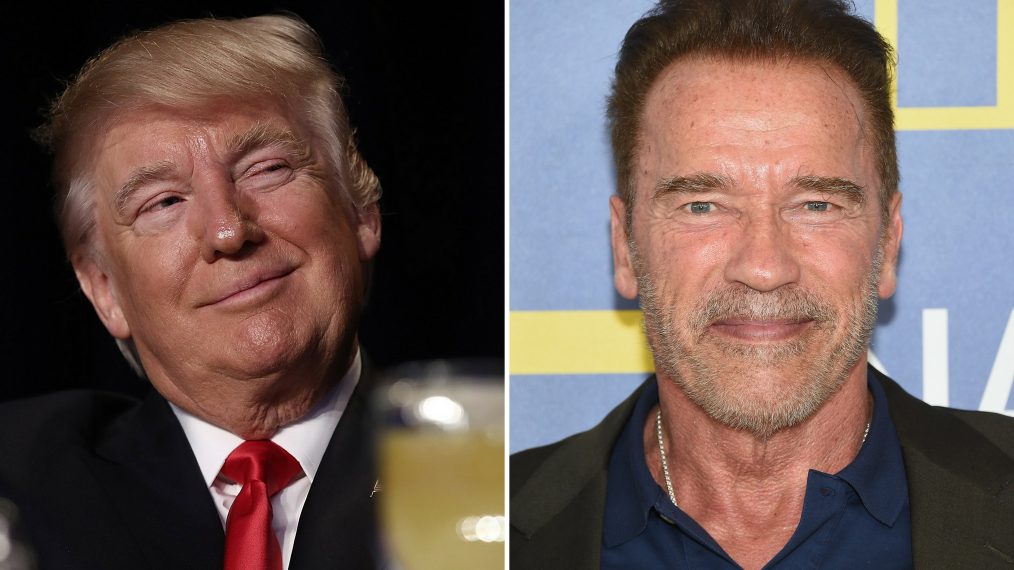 The war of words between President Donald J. Trump and New Celebrity Apprentice boss Arnold Schwarzenegger continues.
Trump began the National Prayer Breakfast on Thursday by praising Apprentice creator and executive producer Mark Burnett, who introduced him at the event, then slammed "big, big movie star" Schwarzenegger for the reality show's falling ratings, asking the crowd to pray for him.
"We had tremendous success on The Apprentice and, when I ran for president, I had to leave the show. And they hired a big, big movie star, Arnold Schwarzenegger to take my place," Trump told attendees. "And we know how that turned out. The ratings went right down the tubes. It's been a total disaster. Mark will never, ever bet against Trump again. And I want to just pray for Arnold if we can. For those ratings. Okay?"
Oof.
Not one to backdown from a challenge, the former governor and forever Terminator, posted a video to his Twitter profile in response, asking the president if he wanted to switch jobs. "Hey, Donald, I have a great idea: Why don't we switch jobs? You take over TV, because you're such an expert in ratings, and I take over your job, so then people can finally sleep comfortably again," Schwarzenegger said in the 14-second video.
The National Prayer Breakfast? pic.twitter.com/KYUqEZbJIE

— Arnold (@Schwarzenegger) February 2, 2017
And that wasn't all Arnold had to say on the matter, apparently. His spokesman offered a statement on the situation that took a jab at Trump's own ratings—his presidential approval ratings. For someone as ratings-obsessed as Trump, that's gotta hurt.
Arnold Schwarzenegger spokesperson responds to President Trump at National Prayer Breakfast –> pic.twitter.com/VMJlBoDlYE

— Katherine Faulders (@KFaulders) February 2, 2017
It was only a few weeks ago that then president-elect Trump called Schwarzenegger out for low first-week ratings of NBC's New Celebrity Apprentice. "Wow, the ratings are in and Arnold Schwarzenegger got "swamped" (or destroyed) by comparison to the ratings machine, DJT. So much for…" Trump tweeted. "Being a movie star-and that was Season 1 compared to Season 14. Now compare him to my season 1. But who cares, he supported Kasich & Hillary."
When will these two stop trading verbal barbs? There are only a few more weeks in the current season of The Apprentice, so maybe it will end immediately following the season finale. (In our dreams.)