What's On: Can the warring factions stop the end of the world as 'The 100' returns for a fourth grueling season
The 100 (9/8c, The CW): No celebration lasts very long in the grim world of this uncompromising dystopian thriller. As the fourth season begins, with many of the weary heroes emerging from the mind control of A.I. Allie to gape in horror at what they've wrought, a new crisis emerges. Clarke (Eliza Taylor) knows from her time in the "City of Light" that degraded nuke plants are heralding the dawn of an eternal winter for humanity in maybe six months, so there's no time for a victory party. But who to tell, and how? And how to keep the warring tribal factions from taking each other down before they can even focus on the bigger problem of extinction? We're off to another grueling start, but at least this show earns its pain.
31 Days of Oscar (starts at 6 am/5c, Turner Classic Movies): The annual month-long celebration (through March 3) of Oscar winners and nominees takes an alphabetical "From A to Z" approach in its scheduling this year, opening with 1940's Abe Lincoln in Illinois and Raymond Massey's nominated performance as the revered president. Prime time highlights of opening night include the sophisticated delights of 1950's All About Eve (8/7c) and the musical charms of 1951's An American in Paris (10:30/9:30c), evoked within the pastiche in this year's Oscar front-runner, La La Land.
Nature (8/7c, PBS, check local listings at pbs.org): In a five-part miniseries of unusual ambition and intimacy, Spy in the Wild producer/director John Downer uses more than 30 animatronic spy cameras, disguised as animals (i.e., Spy Orangutan, Spy Croc Hatchling, Spy Meerkat, etc.) to capture unguarded moments of wildlife behavior. The opening episode sends "spy-cams" among wild dogs, elephants and monkeys.
Inside Wednesday TV: Over the next three Wednesdays, the inspiring life story of Nelson Mandela is told in BET's six-hour dramatized biopic miniseries Madiba (8/7c), starring black-ish's Laurence Fishburne as Mandela, and as two of his closest associates, Orlando Jones as Oliver Tambo and David Harewood as Walter Sisulu. Terry Pheto is Winnie. … BET follows this with the premiere of the new drama series The Quad (10/9c), starring Anika Noni Rose as the newly elected first female president of a historically black college in Georgia that's undergoing seismic cultural changes. … Steve Harvey hosts another edition of Fox's Showtime at the Apollo (8/7c), with featured performers including Chaka Khan, T.I. and comedians Mike Epps and Gabriel Iglesias. … Syfy's The Magicians (9/8c) continues to beguile with its whimsy, as Eliot (Hale Appleman) realizes his upbringing on an Indiana farm is not a cause for shame in his new role as High King of Fillory. And who knew The Beast (Charles Mesure) had a thing for Noel Coward and Cole Porter? … Syfy's drama of outer-space intrigue, The Expanse (10/9c), launches a second season with back-to-back episodes, in the aftermath of Holden (Steven Strait) and his crew escaping from Eros.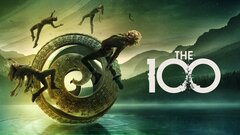 The 100
where to stream
Powered by