'Code Black' Deadly Virus Finale: Rob Lowe Teases, "People Might Get More Than Sick" (VIDEO)
Season 2 of CBS's Code Black is gearing up to go out with a bang…but be warned that some of your favorite cast members may not make it to a third season.
While the medical drama, set at Angels Memorial Hospital in Los Angeles, has yet to officially get picked up for another year of nail-biting medical cases, the two-part season finale will surely leave fans of the show begging for more.
"The next couple of episodes are gonna be tough," said Boris Kodjoe, who plays Dr. Will Campbell. "Some crazy virus is breaking out and the military comes in to quarantine the hospital. We might lose some people, we might not." Kodjoe's co-star, Marcia Gay Harden (Dr. Leanne Rorish) added about the episodes as a whole, "there are some lovely surprises and there are some sad moments, some scary moments. It's good."
RELATED: TV Guide's Bloody Good Time on the Code Black Set (PHOTOS)
To be clear, this isn't the kind of virus that just gives people a little cough. "I think some people might get more than sick," said Rob Lowe with a knowing look. The actor, who joined the cast this season, is excited for the two-part episode and feels the show is stronger than ever. "I think that's a testament to the show. I'm going to say the episodes at the end of this year are unbelievably moving even by Code Black standards. This show makes you cry."
First, though, our good doctors are going to have to stop the deadly virus if any of them are going to see another day. "In the first episode they discover the virus," previewed Harden. "In the second part they have to find out where it's coming from. That takes me out of the hospital and into L.A., which is one of the things I love about the show. L.A. is a character on some level."
Kodjoe shared that even the cast was well aware that something big was happening with these episodes. "Everybody was deathly quiet at the table read. Everybody was crying, all the execs crying. It was crazy. The last two table reads were rough." To the actor, it's because of stories that pack a punch with characters the viewer cares about that Code Black hits such an emotional chord. "Every case represents a different personal challenge for the people that are working on these cases. That's a very sort of sensitive balance that Mike [Seitzman, series creator and director of next week's season finale] likes to keep because it's very easy to disconnect when it's only case related. He's done an amazing job to make it very personal and very emotional without being gratuitous."
Lowe, who is wrapping up his first season on the show, has become something of an expert at coming into an established show and added to the ensemble, not taking it over. "I've done it now on Brothers and Sisters, on Parks and Recreation, and on this show. Those are shows with really strong ensembles that are already cohesive, and chemistry is a big deal. I learned that on The West Wing [Lowe was a part of the original cast of the NBC hit drama]. The addition or subtraction of one actor can make or break a show, so to be able to come in and not detract is a good thing."
Code Black, Wednesday, 10/9c, CBS.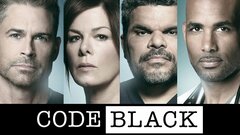 Powered by