How Did Trump Win? A New Documentary Explores His Ascent to the White House (VIDEO)
Have you stopped logging on to Facebook because the mere thought of engaging in a heated political debate about President Donald Trump exhausts you? Still wondering how we got here? A new Showtime Documentary Film aims to answer just that.
TRUMPED: Inside The Greatest Political Upset of All Time, which premieres at the Sundance Film Festival on Friday and airs on Showtime, Friday, February 3rd, delivers behind-the-scenes action as Trump races to the biggest upset in recent U.S. political history. Never-before-scene footage highlights Trump's most intimate moments from the primaries through the debates, to the moment he realizes he's going to be the 45th President of the United States.
RELATED: Faces in the Crowd: The Presidential Inauguration of Donald J. Trump (PHOTOS)
In a clip from the documentary, Trump is asked whether or not he consults with others before making public statements. "I say it from my heart and my brain," Trump says at his Mar-a-Lago estate. "It's not just heart: it's heart and brain. I say what I think is appropriate."
Intrigued yet?
Watch a sneak peek of Trumped below to hear more of the presidential candidate's thoughts on his Republican opponents, Hillary Clinton and international security.
TRUMPED: Inside The Greatest Political Upset of All Time, Premieres, Friday, February 3, 9 ET/PT, Showtime (on-air, on demand, and online)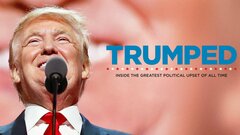 Powered by