Person of Interest: Sameen Shaw's Fate 'Is Still a Very Big Question Mark'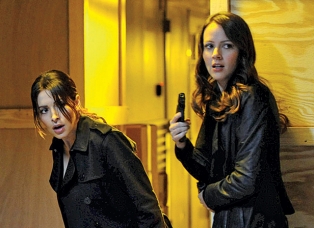 In a shocking twist, Sarah Shahi's bad-ass black-operative, Sameen Shaw, went down in a hail of gunfire on the January 6 episode of Person of Interest after saving her comrades Finch (Michael Emerson), Reese (Jim Caviezel), Fusco (Kevin Chapman), and Root (Amy Acker) from the ruthless Samaritan team. "From the very beginning, Shaw had this huge appetite for violence, and here's a scenario where she looks death right in the face and has the hint of a smile," Shahi says. "She's not afraid of it at all." There's a good reason for Shaw's exit–and it might not be a permanent one.
The actress discovered last summer that she was pregnant–with twins–much to her surprise. "I was on birth control!" she says with a laugh. "I guess when they say 99.9 percent effective…" When she told executive producers Jonathan Nolan and Greg Plageman the news, "Our reaction was, 'Holy s–t! Mazel tov!'" Nolan says. "And then we started thinking, 'How much chaos can we create?'"
Part of that chaos involves keeping viewers guessing about Shaw's fate. She was last seen lying on the ground with a pistol trained on her by Samaritan operative Martine (Cara Buono). Viewers then only heard another gunshot before the episode faded to black. "The scene suggests what happens; it doesn't tell us what happens," Nolan says. "Her fate is still a very big question mark."
Shahi is open to the possibility of Shaw's return down the road. "I would have to make sure that the twins were on a schedule that was comfortable with me being at work," she says. "Being a good mom comes first."
Person of Interest, Tuesdays, 10/9c, CBS
One choice is to ally with a new character, the High Sparrow (Jonathan Pryce), a man of faith. "Their relationship is important," Benioff says, "because Cersei realizes she can use him and religion for her own purposes."
As the season progresses, Cersei takes on a shocking new appearance. "It was a great change from looking polished," Headey says. "The latter half of the season is tough. Cersei's broken down by the end."
The Wall: Can Jon Snow Protect the Kingdom and Himself?
Jon Snow (Kit Harington), Ned Stark's noble bastard son–who led the meager Night's Watch forces to defend the Wall from hordes of Wildlings in a spectacular Season 4 battle that killed the love of his life, Ygritte (Rose Leslie)–must delve into politics, which can prove deadlier than fighting axe-wielding giants. "Ned disliked politics but was drawn into it," Benioff says. "That's what happens to Jon this season."
His biggest political move: deciding whether he will side with Wildling King Beyond the Wall Mance Rayder (Ciarán Hinds) or Stannis Baratheon (Stephen Dillane), who considers himself the true king of Westeros. Stannis arrived at the Wall with his massive army last season and took Mance prisoner. "Jon's come to respect the Wildlings and likes Mance," Benioff says. "That complicates things."
So it's a good thing Jon is finally taking charge. "He doesn't want to be ordered around," Harington says. "He starts making decisions and doing things his way." Adds executive producer D.B. Weiss, "Question of the day: How do you do all this without getting your head chopped off?"
Jon will have to remain extra sharp as he marches into battle again at a village called Hardhome. The skirmish was the season's most grueling shoot for Harington, with 13-hour workdays and tricky fight choreography. "The stunt work this year was quite daunting and intricate," Harington says. "I had to step aside a few more times [than usual] for stunt doubles. It was dangerous."
The sequence's special effects didn't come cheap. Game of Thrones reportedly cost at least $8 million per episode this season–money well spent, according to Michael Lombardo, HBO's president of programming. "The needs of the storytelling drive the budget," he says. "This show opened my eyes to what quality TV needs to look like. I'm not a genre or sci-fi geek, but I'm a geek for great writing."
The Vale: Sansa Goes to the Dark Side
The writing takes a daring turn this year when the tale of Jon's half sister, Sansa Stark (Sophie Turner), goes beyond what happens in Martin's books.
Last season, the once-timid girl, who had been married off to Tyrion, escaped King's Landing with the help of Westeros's own Frank Underwood, political operator Petyr Baelish, aka Littlefinger (Aidan Gillen). The unlikely duo took refuge in her Aunt Lysa's (Kate Dickie) home in the Vale of Arryn. Along the way, Sansa learned Littlefinger had helped orchestrate Joffrey's death. Her middle-aged guardian planted a creepy kiss on her and later killed Lysa to save Sansa's life. By the season finale, Sansa had transformed into a raven-haired, black-clad strategist prepared to play the game and help Littlefinger in his master plan to control the kingdom.
"She's been an observer of tragedy her whole life," Weiss says. "Everything she's seen has been a horrible, teachable moment. And now she's ready to unleash what she's learned."
Essos: Across the Sea, Strangers Meet
At the end of Season 4, both Sansa's sister Arya (Maisie Williams) and Tyrion were sailing east across the sea. "They are on separate journeys," Benioff says. "But these storylines start to converge."
They are traveling to Essos, a sprawling continent that includes the Free Cities and Slaver's Bay, where mother of dragons Daenerys Targaryen (Emilia Clarke) has recently abolished slavery and struggles to control the city of Meereen.
Arya, still determined to avenge the Stark family, arrives in the free city of Braavos. There, the tough teen gets a new look and begins a fresh phase of her education. "The people there are very mysterious and philosophical," Benioff says. "She learns there are different skills to develop beyond sword fighting," Weiss adds.
Tyrion arrives in port far less hopeful. Spymaster Varys (Conleth Hill) has smuggled him over the sea in a crate. When Tyrion emerges, "He's not the wise-cracking, ironically distant cynic he's been," Weiss says. "He's a broken human being."
That's understandable, considering he's murdered not only his father but also his former lover Shae (Sibel Kekilli). "He's never really going to recover," Benioff says. "He's just trying to find something to keep him putting one foot in front of the other."
Varys attempts to motivate Tyrion by asking him to help in his mission to put a new ruler on the iron throne, someone who will finally bring peace and stability to the kingdom. Varys won't say exactly who he has in mind, but he makes it clear it's not a man.
Daenerys may be that woman–but if so, is she ready to rule? "She's learning," Clarke says. "She realizes she was naive to think that freeing the slaves would bring happiness all around."
She's a fair, revolutionary ruler, and still some of her subjects want her dead, so she must make savvy decisions to stay alive. With her adviser, Ser Jorah (Iain Glen), exiled for spying, "She listens to her own advice–and makes mistakes," Clarke says. Luckily, she has a supportive, if scaly, family. "The dragons are testing her parenting skills to their limits. But she realizes she can harness their power for the greater good. It may not be good in the moment, but it will be good afterward," Clarke hints.
Good? On Game of Thrones? Before you get too excited, heed these words from Benioff: "In Season 5, you should be worried about everybody."
Game of Thrones, Season premiere, Sunday, April 12, 9/8c, HBO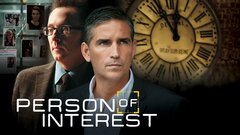 Powered by