Donnie Loves Jenny: What to Expect on the Newlyweds Newest Show
He's a former member of the boy band New Kids on the Block, and she's a TV personality known for her potty mouth and pinup looks. So it's no wonder that when Donnie Wahlberg and Jenny McCarthy fell for each other, they didn't just ride off into the sunset–they landed a reality show. Here, the newlywed stars of A&E's Donnie Loves Jenny–their August nuptials were documented in the January 7 premiere–describe their match made in pop-culture heaven.
First, the obvious: Why invite the world into your relationship?
Wahlberg: Jenny and I both work a lot. [Wahlberg stars in CBS's Blue Bloods and also executive produces the reality series Wahlburgers; McCarthy has a stand-up tour and a Sirius radio show.] We realized that if we did this, we'd get more time together. It's not a situation where we're fighting for relevancy.
McCarthy: There's nothing yucky or salacious about our show. We want people to feel good about their own lives and get a sneak peek into ours. And I'm an open book–pretty much the only thing that embarrasses me is my dad's one-liners. He's very Archie Bunker.
What will surprise viewers the most about your spouse?
McCarthy: His sense of humor. I think Donnie is the best actor in the world–and not just because I'm his wife–but he's mainly cast in dramas, so people don't realize he's so funny.
Wahlberg: Jenny has a reputation for being very outspoken, but the woman I know makes me breakfast in bed and is so selfless.
You play an ongoing game called "I love you so much that…." How does it work and when did it begin?
Wahlberg: It started when we were dating. We'd be texting, and we'd say "I love you" in the most absurd ways. Like, "I want to run you over with a steamroller and fold you up and put you in my pocket."
McCarthy: The more outrageous that they became, the funnier they got. Donnie's are hilarious, but every once in a while I'll have a home run!
Donnie Loves Jenny, Wednesdays, 10:30/9:30c, A&E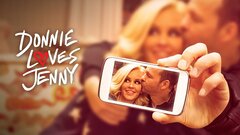 Powered by