Roush Review: FX's Trippy 'Legion'
In the Marvel universe, superpowers often are as much curse as gift. This is especially true in Legion, Noah Hawley's (Fargo) playfully cryptic and creepily disorienting take on the fabled X-Men character of David Haller, equating his explosively psychic abilities with madness.
Good luck figuring out what's real and what's not in the early going of this jittery, hallucinatory thriller. Thankfully, Downton Abbey's charismatic Dan Stevens brings such a likably boyish vulnerability to the troubled and confused David that we're more than willing to go along on this mesmerizing head trip, especially once he falls for fellow mutant/psych-hospital inmate Syd (Rachel Keller). Theirs is a "romance of the mind," since she refuses to be touched. (Comparisons to the Quentin-Alice relationship on Syfy's equally recommended The Magicians are not entirely off base.)
RELATED: FX Debuts Sneak Peek of X-Men Drama Legion
David eventually is revealed to be a pawn in a war whose dimensions Legion teases perhaps too slowly and obliquely. (I haven't read the comics, and after three episodes, still feel almost entirely in the dark.) Things pick up, though don't exactly clarify, once David is rescued from the mental hospital, and the clutches of sinister Division 3 agents, by elegant therapist Melanie Byrd (the wondrously versatile Jean Smart, also from Fargo), who insists he's not schizophrenic and that "the things you see are real."
David, and the viewer, can't be so sure, as every journey into his mind reveals a freaky maze of disturbing memory. Not an easy show to watch, Legion is even harder to shake. I may be baffled for now, but I'm on board.
Legion, Series premiere, Wednesday, Feb. 8, 10/9c, FX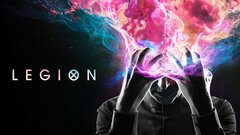 Legion
where to stream
Powered by