Audrina Patridge on Her Food and Travel Series 1st Look and Its Superbowl Special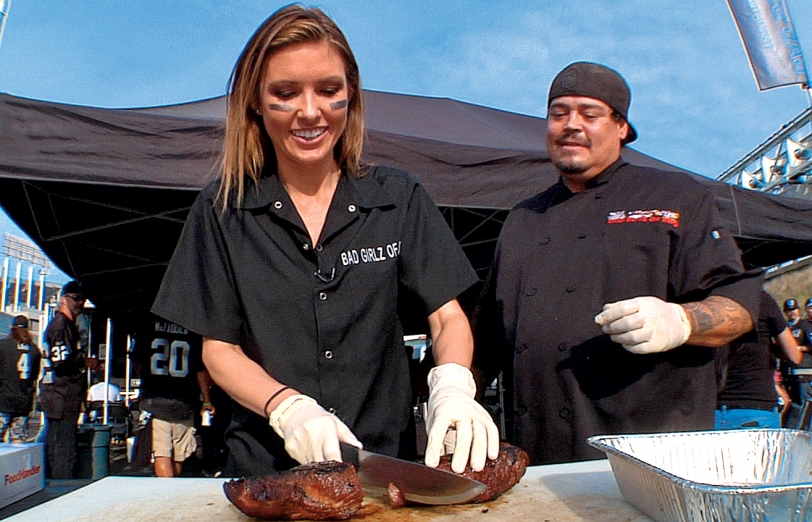 She battled bitches on The Hills and survived Dancing With the Stars. Now Audrina Patridge is facing her greatest challenge yet as host of the anything-goes food-and-travel series 1st Look. Hey, you try eating embryonic eels and silkworm pupae!
No one can accuse you of being a diva, certainly not after the South Korea episode, where you went diving for abalone in subfreezing weather. But we do have a question: Are you nuts?
No, just always up for adventure! Besides, how could I say no? I was diving with a bunch of 60- to 80-year-old Korean grandmothers who do this every day! Not only were they extremely inspiring, but their skin was magnificent. I came home with fabulous beauty tips.
What do you have planned for 1st Look's Super Bowl special (January 31)?
We go to an Oakland Raiders tailgate party where there are no burgers or hot dogs. It's all gourmet: tri-tip roast, oysters on the grill, and the most delicious salmon in the world. And Steve Weatherford of the New York Giants teaches me how to kick a football properly. I did pretty well the first couple of times…then it was downhill from there.
Isn't this show exhausting? One minute, you're in Chicago cooking an alligator from tail to snout. The next, you're walking the floor at San Diego Comic-Con dressed as Mystique from the X-Men. Then you're jetting off to Manhattan to try $500 eggs Benedict.
I'm not gonna lie. It's really hard at times, especially when you factor in all the missed planes and lost luggage. But I've found my niche. I'm actually perfect for this job. I don't complain. I'm a risk taker. I have no allergies. I eat anything. [Laughs] And I drink.
Speaking of booze, was that $1,000 sundae you consumed–the one with the Dom Perignon sorbet–really worth it?
It had chocolate truffles, macaroons, vanilla from Madagascar, and it was topped with edible 24-karat gold. The mix of flavors was so fine, so delicate. It's unbelievable what some people are willing to pay for, but, I have to say, it was the best sundae I've ever had in my life. And, at that price, it'd better be!
Wingin' It: She indulges her high-brow tastes on 1st Look, but Patridge is just a down-home gal on Super Bowl Sunday. Here's her spin on a game-day favorite.
YUMMY, EASY HOT WINGS (Serves 5)
Ingredients:
2 pounds chicken wings
Salt and pepper
1 stick butter (.5 cup)
.5 teaspoon garlic powder
.25 teaspoon salt
1 12 oz. bottle cayenne hot pepper sauce
A few dashes of Tabasco
Directions:
Preheat oven to 425° F. Season chicken with salt and pepper. Arrange on a cooling rack on a cookie sheet covered with foil and bake 20 to 25 minutes, until internal temperature reaches 165° F. Meanwhile, melt butter, garlic powder, salt, hot pepper sauce, and a few dashes of Tabasco in a saucepan. After the wings are baked, place them in an oven-proof dish and pour the sauce mixture all over the top. Toss to coat. Place back in a 325° F oven for 15 minutes. Serve with celery and blue-cheese dip.
1st Look, Syndicated, NBC
Powered by