3 Things Every Fan Should Know About '24: Legacy'
Get ready for the clock to start ticking again. 24: Legacy follows former Army Ranger Eric Carter (Corey Hawkins) as he attempts to stop a terrorist attack against America. Executive producers Manny Coto and Evan Katz, who also brought us the Jack Bauer-led 24, preview three things we need to know about the thriller (which moves to Mondays, 8/7c, on February 6).—
1. New lead, same kind of show. Legacy features new characters, but it maintains the signature 24 style with "real-time, multiple boxes of on-screen action and perilous storylines," vows Katz. The events still take place in one day, but with 12 episodes, expect a 12-hour time jump at some point.
2. CTU is in flux. CTU head Rebecca Ingram (Miranda Otto) recently stepped down to support her husband, Senator John Donovan (Jimmy Smits), during his presidential campaign. But when Carter reaches out to Rebecca for help, she's pulled back in. Her involvement "tests her relationship with her husband, [plus] the current director of CTU," Coto teases.
RELATED: 24: Legacy Trailer Teases a New Hero for a New Day
3. Expect nods to the first 24. Legacy will see the return of agent turned bad guy Tony Almeida (Carlos Bernard) and will include the cousin of deceased tech guru Edgar. But new viewers won't feel lost: "We really tried to design this for someone who has never seen 24," Katz says.
24: Legacy, Series Premiere, Sunday, February 5, Fox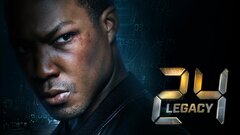 Powered by