'A League of Their Own' Book Author on Show's Controversial Cancellation
A League of Their Own is one of the shows that didn't make it out of the 2023 Hollywood strikes. Prime Video originally renewed the series (an expanded take on the 1992 film of the same name) for a four-episode second season in March, but shockingly backtracked its renewal in August. It now is part of the sadly growing list of canceled TV shows centering queer women.
Co-creator and star Abbi Jacobson doesn't buy that the strikes caused the show's cancellation. She and co-creator Will Graham were vocal about the struggles they faced trying to convince Prime Video to renew the series, which has won awards for its queer representation and was celebrated as one of 2022's best new shows by critics (including us!). Despite the acclaim for the series as a whole, the wonderful acting performances from the cast, and an avid fanbase, Prime still felt the story of these women was not worth telling further. Its struggles to get made oddly mirror similar struggles director Penny Marshall faced when making A League of Their Own the film in the 1990s.
Those struggles are outlined in Erin Carlson's new book No Crying In Baseball, which dives into the history of the beloved film's creation, from background on the real women's baseball league formed during World War II that inspired the movie and show to the behind-the-scenes work that went into making the blockbuster. To this day, A League of Their Own is still the highest-grossing baseball movie of all time. What numbers could A League of Their Own the series have done if it were allowed to continue?
"I don't understand Amazon's decision to cancel A League of Their Own when it has such a devoted fan base," Carlson tells TV Insider, noting that her book has been "really embraced" by fans of the show "because I talked about the queer history of the league and some of the actors and actresses and sort of try to tie everything together and tell these stories."
The All-American Girls Professional Baseball League, the group on which League is based, was filled with queer women. The movie left that out, and according to Carlson, cast member Rosie O'Donnell recalled meeting the surviving women of the league during filming and being shocked by the volume of queer women. That the true stories of their romantic lives were being excluded from the film's narrative was puzzling to her. Given that, the prioritization of queer storylines in the series is something Carlson praises.
The author shares a story about O'Donnell's scene on the bus in the movie, in which her character, Doris, talks about loving her husband. O'Donnell (who came out as a lesbian in 2002) baked a lot of queer subtext into that monologue, and it's remembered for that subtext by LGBTQIA+ fans today. But Carlson says Marshall didn't agree that there was any queer subtext at all when O'Donnell posed the idea to her.
It wasn't any malicious belief on Marshall's part, Carlson says, but there was a culture of fear in Hollywood at the time of the film's creation that may have influenced the exclusion of the real-life sapphic romances. Back when League was being made in the early 1990s, Hollywood still believed that having openly gay stars in a film would clear out movie theater audiences.
"I wonder if [the show's] cancellation has to do with those same fears," Carlson wonders. "Like, OK, here's these women treading onto male territory."
"Baseball is a patriarchy. It just is. And maybe there's some discomfort about that, the blurring of gender lines. 'Oh, women, they're not in their right place!'" she continues. "I'm not saying this is from Amazon. I'm just wondering if they're responding to some fears. Remember when Target pulled down the [Pride] displays [in 2023]? Maybe someone at Amazon Studios was sort of responding to those [same] fears, because like Abbi Jacobson said, I don't know that you can blame the actors' strike."
When the show was canceled, Deadline reported that the cancellation was "believed to stem from the length of the ongoing WGA and SAG-AFTRA strikes, which have delayed TV production, creating large gaps between seasons and making shows miss their target release dates."
"I feel like there were five seasons in between seasons of the show Lost. [Studios] were OK with airing some shows that have longer gaps between the seasons, so I was a bit surprised by that," Carlson notes, questioning if the strike excuse is a trustworthy narrative.
Whatever the truth is, Carlson feels the show deserves more seasons. "The production values were so good. The performances were so good. And the wonderful character development and centering queer characters, illuminating their struggles to be themselves during an extremely homophobic time in America was so rare," she says. "And there were no queer tropes. These were real, fully developed characters. They were complex. I think my favorite character was Max Chapman [Chanté Adams], the really talented Black pitcher. I wanted to find out what happened to her! She was a great character."
Seeing Max explore her gender identity, plus her "wonderful bond with her Uncle Bertie [Lea Robinson], who was a trans man in a happy marriage," was something special. "I had never seen anything like that on television or streaming," Carlson reflects. Max's storyline in general was an inspired choice.
"In the movie, you had that one great scene where the nameless Black woman picks up a ball on the foul line and throws it back over Dottie's [Geena Davis] head into Ellen Sue's [Freddie Simpson] glove, and she walks away like, 'Yeah, I did that. I should be playing in your league,'" she explains. "It was a thoughtful, very stirring acknowledgment of the racial exclusion within the original league, so I love that Abbi Jacobson and her co-creator, Will Graham, expanded on that character."
Bringing O'Donnell back to play the lesbian owner of a queer speakeasy was also a choice the author loved.
"I thought those scenes were great too, and ultimately devastating because that speakeasy was raided. And that was a real thing. In the original league, if you went out to a bar like that, your name would be in the paper. There was such a fear of lesbianism in the original league that they adopted a 'play it, don't say it' policy," Carlson explains. "The original owners wanted their players to play like men, but look like women, so they made the players go to charm school, and they thought it was ridiculous but they did it because that was the sacrifice that they made to be able to play the sport that they love. They knew — and drag queens know this too — that gender is a performance, so they put on their skirts, they put on their lipstick, they did what they had to in order to play baseball."
Learn more about the real history behind A League of Their Own — including the stories excluded from the film's narrative — in No Crying in Baseball, available now.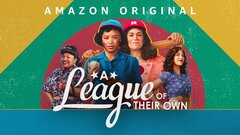 Powered by