Vikings: Bigger Budget, Bigger Battles in Season 3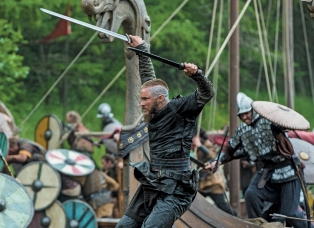 Preview 2015 | Returns Thursday, Feb. 19, 10/9c, History
On the backlot of Ashford Studios near Dublin last September, Vikings creator Michael Hirst watched enthralled as 500 extras re-created the bloody 885 AD Viking siege of Paris. Norse fighters with swords and axes scaled the city's walls as Frankish (early French) soldiers fought back with torrents of boiling oil and a hail of spears.
"We had hundreds of people–men and women dressed as shield maidens and warriors–climbing ladders that were being set ablaze, stuntmen on fire dropping into the water below," says Hirst. "It was awesome."
The raid, which happens midseason, is the most spectacular battle yet in a series known for satisfying smackdowns. But just as much a part of Season 3 are ideological clashes between pagans and Christians, heartbreaking love stories, and shocking losses as beloved characters join the gods in the Norse afterlife of Valhalla.
These upheavals occur in the name of progress driven by the new king of the Vikings, onetime farmer Ragnar Lothbrok (Travis Fimmel), who rose to power after commanding groundbreaking dragon-boat raids on England that brought significant riches to his people–and took his title after killing his former ally, treacherous King Horik (Donal Logue), last season.
"It's very different with Ragnar being king now," Fimmel says. "He finds out how power has its advantages and its disadvantages."
The good side of power: Early in Season 3, Ragnar peacefully expands Viking farming settlements to England's Wessex region, ruled by wily, sophisticated King Ecbert (Linus Roache). The bad: In exchange, Viking warriors must go into a battle to place a puppet leader in a neighboring territory, which is part of Ecbert's plan to rule all of England.
Preparing for this deeper involvement with new lands is the focus of a quieter-than-normal Vikings season premiere. "The opener starts with glimpses into personal lives," Hirst says. "All the romantic relationships are in crisis. Characters are frustrated or dissatisfied."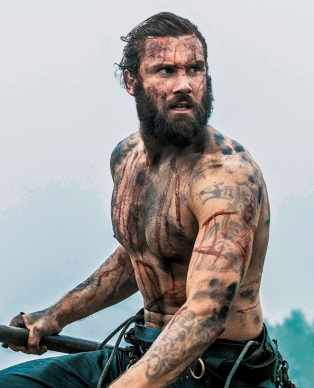 As the new season unfolds, one couple suffers far more than others: Ragnar's impulsive warrior brother, Rollo (Clive Standen), and shrewd Siggy (Jessalyn Gilsig), the power-hungry widow of an earl. "Their relationship becomes absolutely tragic," Hirst hints.
That's not the case for single Lagertha (Katheryn Winnick), who divorced Ragnar in Season 1 after he cheated on her with his now-wife, Queen Aslaug (Alyssa Sutherland). Lagertha has become Ragnar's equal, ally, and an earl in her own right after murdering her abusive second husband and taking his lands. She leaves her territory in the hands of trusted young Viking Kalf (Ben Robson) and takes charge of the new Wessex farms, where she finds romance.
"Viewers will see the lighter side of Lagertha," Winnick says. "She finally lets her hair down and explores what another man might bring to the table, and maybe even finds love. She's a free woman; she can do whatever she wants with whomever she wants. But she also gets back in her armor. In Season 3, Lagertha definitely kicks ass."
So does the Vikings production team. The Paris siege alone required 13,800 square feet of new sets (that section of the city's defensive wall where Hirst saw so much action is 100 feet long and 30 feet high); new weapons, such as the Franks' massive, spike-covered rolling cylinder known as the killing wheel; and a serious dose of CGI to bring to life those 3,000 Vikings sailing 100 ships up the Seine River.
This kind of grand scale doesn't come cheap. History Channel increased the budget for the episodes featuring the siege, indicating the cable network's confidence in the loyalty of the series' rabid fan base (Vikings averages 5.1 million total viewers per episode and has ahyperactive social-media following) and the potential for the show to pull in even more viewers.
"We felt like it was important to do some big things this season," says Dirk Hoogstra, History's executive vice president and general manager. "It's a rite of passage when a series makes it to the third season. And we want viewers who haven't watched before to say, 'OK, I'll commit to it. This must be great.'"
Also destined for greatness: Ragnar and Lagertha's son, the impatient warrior Bjorn (Alexander Ludwig), who grows up and becomes more like his father this season, taking his story in a new direction.
"Travis and I worked endlessly to start showing qualities in Bjorn that resembled Ragnar," Ludwig says. "We met almost every day after set, went over the script, made notes, talked. There were mannerisms that I wanted to play off of–the way I say certain things, the way he moves–still keeping true to Bjorn."
And Vikings will stay true to its mix of family ties and bloody drama, promises Hirst, even if "more unexpected things happen than in the first two seasons. There will be scenes that are both disturbing and wonderful, shocking but still beautiful."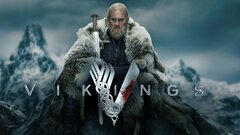 Vikings
where to stream
Powered by