'The Ultimatum: Queer Love's Mal on What Yoly Didn't Tell Her Before the Reunion
[Warning: The following contains MAJOR spoilers for The Ultimatum: Queer Love finale and reunion.]
Mal Wright asked Yoly Rojas to share everything she needed to know about her time with Xander Boger before watching The Ultimatum: Queer Love. When she watched the episodes with the rest of the cast just hours before filming the reunion, she realized Yoly withheld a lot.
As revealed in the reunion, Mal and Yoly broke off their engagement and went their separate ways a few weeks after they got engaged in the finale. The reunion was filmed "quite some time after the show had shot," Mal tells TV Insider. To prepare for watching the episodes, Mal says she and Yoly spoke "several times" about what would be revealed.
"We had just seen all of the final product hours before the reunion filmed," she says. "That same weekend, I got a call that my dad was literally on his deathbed — that same exact weekend while I was away. So now my emotions are to the top, and I have to film this reunion because I have to commit to my contract. I have to see this thing through. They were great about it, though. But this is just to let you know where my emotions were before then. Yoly and I had spoken several times up until that point, and I'm like, 'Hey, is there anything that I need to know before we go into this, so we're just on the same page? We don't want to surprise each other or shock each other with anything. Is there anything that we need to know?' She's like, 'There's nothing.'"
Mal implies that she was not informed of Yoly and Xander's emotional meeting on decision day until she watched the episode with the whole cast. As viewers saw in the episode, Yoly nearly left with Xander during that conversation. She also took off her engagement ring before meeting with Xander and all but flat-out said she regretted accepting Mal's proposal. "I think picking myself would be picking you, and I'm so conflicted in that," she said in the scene.
"What you saw [in the reunion] was my reaction to all of that. Like, you deliberately were just lying to me, and you didn't have to. I didn't give you a reason to do that," Mal says of her ex.
How does she make sense of that now, with the benefit of hindsight? "I don't know. I actually don't know," Mal tells us. "I think that's the most confusing part. That's where, you know, you heard me use the term referring to her as a 'dangerous stranger,' because I don't understand why there are some things that she shared, some really tough things that we talked about, and some that she just left out."
"I'm past it, I know that," she continues. "And if anything, it just confirms my decision to walk away after the fact. And my 'good on you for listening to yourself.' Yeah, I still don't know. And I don't even know if it's answers that I want, really."
The Ultimatum: Queer Love, Streaming Now, Netflix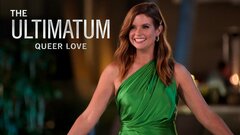 Powered by