Jerry Douglas' Widow Kym Joins 'Young and the Restless' Tribute Episode Honoring Her Husband
Coinciding with the 50th anniversary of the long-running soap, The Young and the Restless will honor the legacy of the late Jerry Douglas with a special episode featuring his actress wife, Kym Douglas, as a brand new character.
In this special episode, slated to air June 22, there will be classic flashbacks of Douglas' John Abbott, the wealthy chairman of Jabot Cosmetics and patriarch of the Abbott family. According to CBS, the late actor's wife will portray Zelda Wilford, someone who shares a special connection to the Abbott family.
When John Abbott first joined the series, he was a single father helping his children, Jack, Ashley, and Traci, navigate adulthood. In later years, his character married Jill Foster, had another son, Billy, and was involved in many romantic entanglements with his estranged ex-wife, Dina Mergeron.
Abbot was killed off in 2006 but made later appearances in the show as a ghost who continued to watch over and guide his children. His last appearance on the long-running soap was in 2016.
The later actor himself passed away on November 9, 2021, after a brief illness at age 88.
"On behalf of the entire company of The Young and the Restless, we send our deepest sympathies to the Douglas family on the passing of Jerry Douglas," said Anthony Morina, executive producer of The Young and the Restless, in a statement.
"Jerry came to Y&R in 1982 with an impressive resume of credits," Morina continued. "Our show was lucky to have an actor of his caliber join the Y&R cast and introduce the audience to the iconic Abbott family. His contribution to the legacy of Y&R as Abbott family patriarch, John Abbott, is still felt to this day. He will be sorely missed."
Kym Douglas is best known for her guest-starring roles in L. A. Law (1991), In Living Color (1993), Retired at 35 (2011), and The Bold and the Beautiful (2017). As a blogger, several publications have quoted her as a beauty and lifestyle expert and have been open about her struggles with breast cancer.
The Young and the Restless, Special Episode Premiere, Thursday, June 22, CBS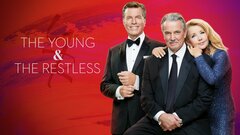 Powered by