'Shiny Happy People': Jim Bob & Michelle Duggar Call Doc 'Derogatory' and 'Sensationalized'
Prime Video says its new four-part documentary Shiny Happy People: Duggar Family Secrets delves into the truth of the Duggars, one of reality TV's most famous families. But Jim Bob and Michelle Duggar, who starred with their many kids on 19 Kids and Counting before the scandal led to the TLC show's cancellation, apparently beg to differ.
"The recent 'documentary' that talks about our family is sad because in it we see the media and those with ill intentions hurting people we love," the couple wrote in a post on their website on Thursday, June 1. "Like other families, ours too has experienced the joys and heartbreaks of life, just in a very public format. This 'documentary' paints so much and so many in a derogatory and sensationalized way because sadly that's the direction of entertainment these days."
The limited docuseries, which started streaming on Friday, June 2, "expos[es] the truth beneath the wholesome Americana surface of reality tv's favorite mega-family, The Duggars, and the radical organization behind them: The Institute in Basic Life Principles," Amazon says in a synopsis. "As details of the family and their scandals unfold, we realize they're part of an insidious, much larger threat already in motion, with democracy itself in peril."
In their post, Jim Bob and Michelle added: "We have always believed that the best chance to repair damaged relationships, or to reconcile differences, is through love in a private setting. We love every member of our family and will continue to do all we can to have a good relationship with each one. Through both the triumphs and the trials, we have clung to our faith all the more and discovered that through the love and grace of Jesus, we find strength, comfort, and purpose."
The couple's daughter Jill Duggar and her husband, Derick Dillard, participated in the documentary, as did Deanna Jordan, Jim Bob's sister, and Amy Duggar King, a niece of Jim Bob and Michelle.
And King responded to her aunt and uncle's statement about the docuseries in a TikTok video on Friday, referencing their son Josh Duggar's 2021 conviction for downloading and possession of child sex abuse images, as well as the couple's 2015 reveal that Josh had molested four of his sisters.
"News flash: If you would have gotten Josh the real, true help that he needed a long time ago — actual therapy — you wouldn't be in this mess. Those beautiful girls wouldn't have so much to heal from," King said in the video, showing a screenshot of Jim Bob and Michelle's statement. "You are not a victim here. Stop playing the victim."
King also told Entertainment Tonight that the Duggars' statement is "gaslighting."
"I felt like, in that moment, they could have been humble, and they could have said, 'We're sorry for the victims,'" she said. "They could have done that, but instead, they didn't. They didn't."
She added: "That's really, really sad that they're still protecting a pedophile. It's very sad. It doesn't show any support for the actual victims, and that is what the documentary is all about."
Shiny Happy People: Duggar Family Secrets, Now Streaming, Prime Video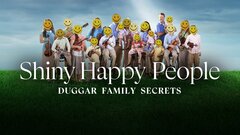 Powered by