'Deadliest Catch' Sneak Peek: Captain Rick Shelford Gets Heartbreaking Call (VIDEO)
Deadliest Catch Season 19 Episode 7, "Cold Hard World," begins with heartbreak. In the TV Insider exclusive clip above, Captain Rick Shelford learns his grandfather has died. The sad news was delivered in a call from his father, Rick Shelford, Sr.
"My heart is with Mom and everybody there," he tells his father through tears while on board of the F/V Aleutian Lady. He collects himself and shares why moments like this are the most difficult part of his line of work.
"The hardest part about being a fisherman, being a captain, is being away from loved ones. Not being there when stuff happens," he tells the cameras. "You know, all you want to do is be there for your family, your mom, your siblings, your loved ones. It's the worst part about this job."
Elsewhere in the episode, Rick will be attempting a dangerous shortcut through the treacherous tides of Unimak Pass. Sean Dwyer Jake on the Saga for a high-risk journey west to Adak Island. And Sig Hansen's deckhand Lauritz takes a brutal fall while Johnathan bids farewell to a lifelong friend.
Season 19 kicked off in April 2023 on Discovery. The series tracks the group of fisherman who work on the Alaskan waters. Earlier episodes from the season have featured legendary east coast captain Linda Greenlaw venturing into Alaska crab for the first time, a group of young fishermen journeying out into the Bering Sea where they faced off with illegal foreign boats, and more. Rick isn't the only one to suffer a family loss this season either.
In Episode 4, Sig grieved the loss of his mother while laying her to rest. He returned from the funeral in Episode 5 only to be thrust back into the high-stakes world of his career when discovering his gear was in jeopardy.
Deadliest Catch, Tuesdays, 8/7c, Discovery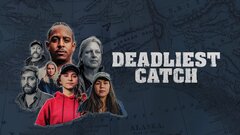 Powered by