'The Marvelous Mrs. Maisel': Rachel Brosnahan & Alex Borstein Explain That 'Jeopardy!' Ending
[Warning: The below contains MAJOR spoilers for The Marvelous Mrs. Maisel Season 5, Episode 9 "Four Minutes."]
The Marvelous Mrs. Maisel may have started set in the 1950s, but the story took viewers all the way into 2005 for the show's final moments as Midge (Rachel Brosnahan) and Susie (Alex Borstein) bid viewers farewell.
After teasing a rift between the pair earlier in the season, viewers discovered that their falling out stemmed from Susie's ties to the mob and how that ultimately led to Joel's (Michael Zegen) imprisonment. Years later, Midge sends a message to Susie during her roast where the manager asks for Midge's number.
While we never get to see their reconciliation happen onscreen, a flash forward into 2005 sees the old friends chummy once more, joking over the phone and watching the latest episode of Jeopardy! together, which based on the context, appears to be a routine between them. As for the reasoning behind Jeopardy! and the scene itself, Brosnahan says, "Only Amy [Sherman-Palladino] knows the answer to that one."
As for using the fan-favorite game show, the actress adds, "I know it was a real tricky thing to get the rights to do. They really didn't know if we could until maybe the day before."
Borstein had a little more context for the arrangement between Midge and Susie, noting the inspiration behind it was likely "Mel Brooks and Carl Reiner's friendship. They've had a friendship their entire working lives and long after they were making films together. And daily, they would watch Jeopardy! together."
"I think that's where she borrowed that [story] from," Borstein adds of Sherman-Palladino's inspiration behind Susie and Midge's over-the-phone viewing session. "I think you're right," Brosnahan confirms.
It may have something to do with Susie and Midge's age demographic at this point in time within the series, Borstein also notes, adding Jeopardy! was what "they're watching at that time of night."
Despite being apart, the final scene reestablishes the friendship viewers have come to love over the years, reassuring them that no matter what, it's a happy ending for this dynamic duo. But what did you think of The Marvelous Mrs. Maisel ending? Sound off in the comments section, below, and stream all five seasons on Prime Video anytime.
The Marvelous Mrs. Maisel, Streaming now, Prime Video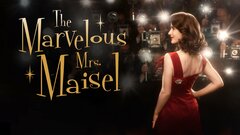 Powered by