Countdown to 'Outlander' Day 2: Expect Family Challenges & New Intimacy in Season 7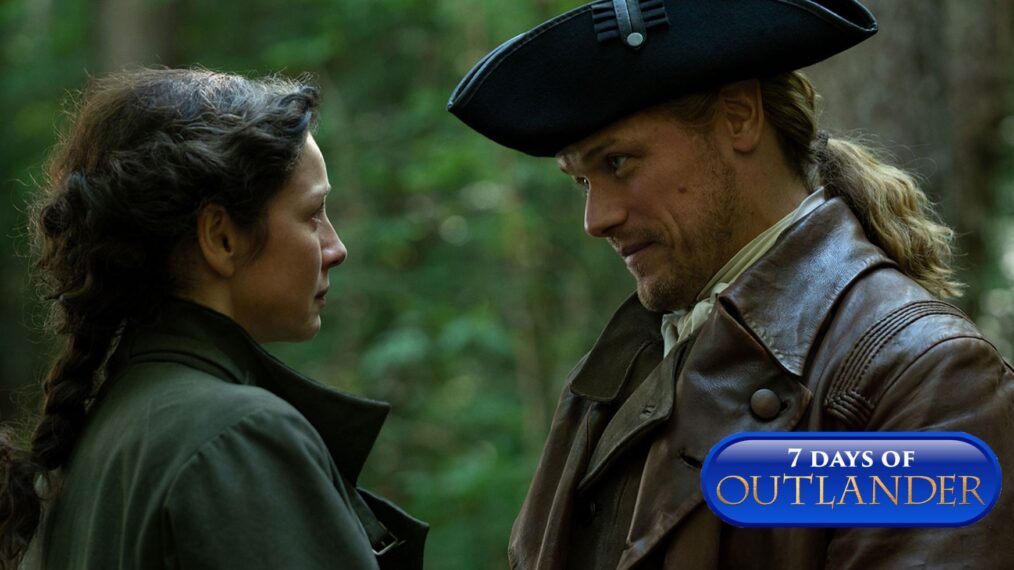 Hi there, Sassenachs! Join us in our 7-day countdown to the Season 7 premiere of Outlander, featuring a deep-dive into the seventh season, a chat with author Diana Gabaldon, as well as a look back at Jamie and Claire's love story, and more.
Stay tuned and be sure to pick up TV Guide Magazine's Outlander Deluxe Collector's Edition, available for order online now at Outlander2023.com and for purchase on newsstands nationwide.
"Season 7 is the best since Season 1," promises star Caitríona Balfe of the 16 episodes (airing in two blocks of eight), which are drawn primarily from An Echo in the Bone, the captivating seventh novel in Diana Gabaldon's bestselling book series. "There are amazing characters, new and old. It's epic and expansive. We've opened the world out an awful lot."
The actress' enthusiasm has us on kilt pins and needles for the time travel romance's return. Since its 2014 debut, the saga has delivered on a massive scale as millions of fans have fallen in love with 20th-century surgeon Claire Fraser (Balfe), her Scottish Highlander husband Jamie (Sam Heughan), and their extended family. They cross centuries and continents, tangle with dastardly villains and real-life historical figures and survive personal and political events that would crush those with less grit. Pesky baddies never stop trying to tear them apart, and the seventh season is no different.
"Claire and Jamie's theme this season is that their bond — one so great that they know when one another is in trouble, or alive…or dead — will be stretched," says executive producer Matthew B. Roberts. "They're separated physically and on a different plane, so to speak. They come back together multiple times."
Tying Up Loose Ends
In the Season 6 finale, the Frasers were enduring one of their many forced separations. Season 7 picks up with Jamie and Young Ian (John Bell) racing to rescue Claire from jail in Wilmington. ("We start with Jamie saying, 'I know you're alive,'" Roberts offers.) They discover the town in chaos after rebels stormed a nearby British fort and that Claire has been whisked away to treat an important patient, putting her further out of her husband's reach.
Her rescue is a turnabout from Outlander tradition, which has seen the plucky couple each bravely saving the other. (Claire once helped unleash a herd of cattle in prison to distract the guards!) "Claire's salvation comes in the form of someone very unexpected," Heughan hints. That twist leads to the discovery of the person who really committed the murder of which Claire has been accused, and it's a revelation as shocking as the horrific crime itself.
You may even shed a tear for the victim's father, Tom Christie (Mark Lewis Jones), who has stirred up trouble for the Frasers but accompanied Claire to Wilmington to ensure she got a fair trial. "He's the one villain, I think, at the end of the day that we won't be happy he's gone," Roberts says. The same can't be said for Richard Brown (Chris Larkin) and his posse, who have tormented the Frasers and finally get what they deserve. As for Claire's use of ether to numb the pain of her assault? "She's growing into this matriarch of a family in a healthy way," Balfe says. "She has learned to talk when things are bothering her."
A Fresh Fight
One way our Sassenach finds her feet again is amid the carnage of the hard-fought American Revolutionary War. "She gets to be where she feels the most vital and vibrant, in field hospitals," Balfe says. "She's doctoring. She's back to her old self." And she'll offer support to experienced fighter and natural leader Jamie, who joins the Continental Army.
"Jamie is climbing the ranks," says Heughan, whose character becomes a general. But his rising status isn't something he's particularly happy about, for good reason: He's on the opposite side of his British friend Lord John Grey (David Berry), who feels unrequited love for Jamie and has been raising his illegitimate son William (Charles Vandervaart), also a redcoat. Says Heughan, "Jamie's fighting against his friends, his family. He's got a lot to lose."
"The Battle of Saratoga has a massive impact on Jamie and his loved ones," Roberts adds of the 1777 showdown in Upstate New York that was a turning point in the war. "We don't just do battle for battle's sake; it has to have an important emotional impact on the characters in that battle."
Another fight rages beyond the war zone, and it's related to the cache of Jacobite gold that Jamie's aunt Jocasta (Maria Doyle Kennedy) smuggled from Scotland to North Carolina. "Allegiances and friendships are tested and broken," Heughan previews.
Family Matters
The Frasers' pregnant engineer daughter Bree (Sophie Skelton) and her historian husband Roger MacKenzie (Richard Rankin) have struggled to find purpose since they time-traveled from the 20th century to be with her parents. The premiere finds them at Edenton Seminary, where they've gone with their toddler son so Roger can get ordained.
But Roger's meaningful new path is tested when he is asked to minister to some prisoners and one of them turns out to be an old enemy who could cause major problems. He's not the only man who could cause upset for the MacKenzies this season: They make a new acquaintance in the form of handsome Rob Cameron (Chris Fulton), who becomes a key player.
The MacKenzies have more to protect than ever when they welcome their second child, and Skelton warns it's hardly smooth sailing. "What Roger and Bree are grappling with this season is, how much would you do for your children and how far would you go?" But they're ready, Rankin says, promising "their bond is stronger than ever."
Burning Passions
One way the core couples of Outlander bond is passion, and fans will get plenty of that in Season 7. "We're telling a story of two people who are so in love and so connected," Balfe says. "[This season] Jamie and Claire's love is stronger and deeper. What we've been trying to find, Sam and I, is they're not young lovers anymore…what does that mean, and what does intimacy mean? You have an evolution; it doesn't mean that things go away."
"They always find their way back to each other through physical touch; it's how they reconnect," says Heughan, who back in Season 6 introduced producers to intimacy coordinator Vanessa Coffey. She was hired to help with the steamy sequences and Balfe says she continues to be a game changer.
"Sam and I had always worked the stuff out ourselves — talk to directors, have rehearsals — but it was like, 'Well, we'll do this and this.' You had to be your own director and think 'Are they gonna edit it like this?' You're constantly in self-protection mode," Balfe says. "Vanessa has made us approach everything in a healthier, more professional way. It allows us to let go of having to control what is happening and focus on the character and their journey."
This is an abbreviated version of the Outlander Deluxe Collector's Edition Season 7 preview. Order your copy to read the full story and access more fun content on the series.
Outlander, Season 7 Premiere, Friday, June 16, 8/7c, Starz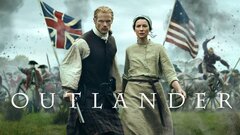 Powered by