'Married at First Sight': What Happened to Shaquille & Kirsten on Decision Day?
[Warning: The below contains MAJOR spoilers for Married at First Sight Season 16, Episode 21, "The Final Decision."]
Married at First Sight's social experiment is nearly over for the couples of Season 16, and after last week's cliffhanger ending, one big question remains in the latest installment, "The Final Decision," which is, what happened to Shaquille and Kirsten?
They were the only couple whose decision wasn't revealed by the installment's end, leaving viewers waiting until the beginning of this week's episode. As fans will recall, Nicole and Chris, Airris and Jasmine, and Gina and Clint all sat with the experts Dr. Pepper Schwartz and Pastor Cal to reveal their Decision Day choices.
Among those three, only Nicole and Chris decided to give their marriage a shot, opting to stay together, whereas Jasmine and Airris, and Gina and Clint called it quits, quite amicably.
In the previous week's final moments, Kirsten was the first to reveal her feelings about Decision Day, sharing that she'd like to stay married to Shaquille, but does he feel the same way? Some uncertainty seemed to plague his mind in the closing seconds, which was revisited in this week's opening minutes.
Speaking candidly, he said, "It's been very difficult for me as a man, to really just try to step up to be the man that you wanted me to be, that you needed me to be." Still withholding his answer, Kirsten appears to be sitting on the edge of her seat at this point when he delivers the all-disappointing "but."
"But honestly," he continued, "I'm just not settled with us. My decision would be for us to get a divorce."
Rendered somewhat speechless, all Kirsten can muster in response is a meager, "Okay."
In order to try and explain his reasoning, Shaquille added, "I've been feeling alone, I've been feeling like there are times where I needed you and you weren't there." It's a sad reality to face as the experts' own excited expressions fade and the gravity of the situation sinks in.
Even counting the fifth couple who didn't make it the entire season, Domynique and Mackinley, this season only saw one pair remain married by the time Decision Day came around. What did you think of Shaquille and Kirsten's decision to divorce? Let us know in the comments section, below, and stay tuned as we await the reunion specials.
Married at First Sight, Season 16, Wednesdays, 8/7c, Lifetime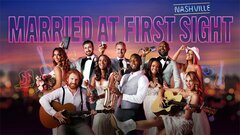 Powered by