Candice Patton Reflects on Ending 'The Flash' on a 'High Note'
[Warning: The below contains MINOR spoilers for The Flash series finale, "A New World, Part 4." Because the info included was actually revealed in like, Year 1 and was pretty much the driving plot for #WestAllen since the final season began. So if you haven't already figured out what just happened with Iris and Barry, we can't help you.]
Behind every great man may be a greater woman, but beside the fastest man alive has always been a total queen. And now, a mom!
Since its launch in 2014, The Flash's Candice Patton has kept pace with the titular Speedster (Grant Gustin) as Iris West, journalist, truth-speaker, and role model for millions. We have watched her grow from Barry's bestie to love interest to wife and equal, all the while dealing with the fact that her fate was sort of sealed: Thanks to Bar's often problematic time travel, we knew she'd eventually win a Pulitzer and bring two new Speedsters into the world. Which was all set into motion in the show's final hour, as Iris gave birth to Baby Nora shortly after hubby established a tentative "agree to disagree" truce with Eobard Thawne (Rick Cosnett) to save the timeline.
And even though the Saturn Award-winning Mississippi native admits her run "wasn't a cakewalk" at times, she never let that sway her devotion to portraying — and redefining — the iconic DC Comics character.
Here, she looks back at her time in Central City with the kind of grace, gratitude, and unfiltered authenticity that would make Iris proud.
Hey you! It must be a bit of a relief to be wrapped, right?
Candice Patton: I mean…[Laughs]
It's OK to feel that way! This has been a huge chunk of your life.
Yeah, it has. It's just hard to say that because you don't want to sound ungrateful, but there is a huge level of just like, release. I wouldn't say relief, but just like a release. Knowing that a thing is done, you did it and you can lay it to rest and you can move onward. It's a nice feeling, yeah.
And you've got to deliver a whole story.
Yeah. Yeah. Yeah. I feel like for me, my character, at least, we did all the things. We ended it with Nora and Barry, so it ended on a good note.
I think you had mentioned somewhere that you'd gotten a call from Grant, I guess, between the last two seasons that he was ready to end this and you were on board as well.
For me, it was never a decision that I could make, right? That was more Grant and the higher-ups. So I think when I got that call, you know, I was relieved and not in a bad way. I was saying to someone that, at some point when you're on a show for as long as we've been on the show, you gotta know when to fold them, you know? You gotta know when to bow out gracefully and say, "Okay, we've done all the things [we wanted to] and we need to end it on a high note." And so when I got the call from him, I just felt a lot of relief because I was like, "Yes, it is time. It is time to wrap it up."
I've been ready to kind of move forward, but at the same time, I love Iris and I loved being a part of the show, and I didn't want to leave prematurely. I wanted to end it with everybody and I wanted to end it properly. I feel like the fans deserve that. So I was just glad that we, as a cast, kind of all did it at the same time.
The birth scene was the last thing you and Grant filmed, right?
Well, it was the last scene for me. I think I finished a day ear earlier than everybody else, but yeah, that was the last scene. I was like, "Why would you guys do this to me?!" [Laughs]
But it was just so apropos, it's like you're giving birth to this thing, it's a beginning and also a finalization, you know? And so I'm shooting this scene and it's not lost on me that like, I'm also going through the emotions of giving birth to something new and also ending this thing. It was a lot of emotions…there was no acting needed that day.
I was just informed that the song Joe (Jesse L. Martin) sings to baby Nora is actually a version of the song that Jesse himself wrote for [Chief Marketing Officer and Head of Talent Relations at Berlanti Productions] Suzanne Gomez's daughter.
Oh yes! Suzanne Gomez, who wonderfully did PR on our show for many, many, many years. I was saying to someone just before this, that part of the party scene was so emotional because it's Iris and her father, and he's holding Nora, so I'm having these emotions about that. And at the same time, it's Candice sitting with Jesse, whom I love, and he's singing this song that he wrote for our friend who we both met doing the show. So it was just a lot of emotions. We've, we've gone through so much in the show, we've met and met friends working at the network and the studio, and yeah. It was just, it was emotional.
I can imagine. Especially since you've gone through some shit with this show. But you kept showing up.
Yeah. I mean, you know. I'm very vocal about [racist fans], it wasn't easy, it wasn't a cakewalk. And I think it's important for me to be candid about that. But at the same time, I made the decision to stay and push forward and push through. Because I really deeply felt like it was bigger than me, you know? I felt like I had a responsibility to make Iris successful so that other castings like mine could be viewed as potentially successful. I wanted this to work and I knew it was bigger than just me. So I felt like I pushed through a lot of things for that reason.
That had to be so scary at times. Who were your allies on set during all of that?
Um, on set, you know, not so much. That's not to say that I didn't have support. I had my mom and I had my team, my manager, especially, like, I had people who knew me and were in my corner and who made sure to call me all the time. It was really important that I had that network outside of the show, for sure.
I gotta say, I love that when Eric Wallace took over as showrunner, the representation of Iris on screen became so much more authentic.
I do think that's true. I do think Eric came in and he had a vested interest in fleshing out my character and other characters that maybe he didn't think were getting, you know, enough.
I mean, you got to rock natural hair!
I got to wear natural hair, and I think Iris had more agency. Yeah, there were a lot of things that happened.
And like you were saying, this made other castings possible. As your show is ending, The Flash movie is coming out with Kiersey Clemons as Iris.
It's wild. It's like, it's, it's very normal these days, you know? Even with Halle [Bailey, The Little Mermaid] and Tessa Thompson and Thor and Kiersey and The Flash. But at the time [when I started], it was scary territory…not that it hadn't been done before. I don't wanna disregard the Halle Berries and castings like that. I just think it was at a time when social media was so prevalent and it was a very scary time to do race-bending casting, especially in genre. And so yeah. It was a hard time and I really needed it to work so that the future of race-bending in genre would be successful.
And now you've got nearly a full decade of working on this show…the kids that started watching The Flash at 10 or 11 are now the generation that will ultimately advance decisions like that.
It's crazy! We go to these conventions — I just went to one in Germany — and you're hearing kids say, "Oh, I have been watching you since I was in fifth grade." The time goes by so fast and it's crazy to think that there are millions of people out there who grew up watching us. We were in their living rooms every week for nine years, and they tuned in with their families, they cried with us, they laughed with us. It's a very intimate thing, television. And to be able to do it for almost a decade is incredible.
So what's next for you? I'm hoping you're taking a bit of time off just to rest.
[Laughs] Yes. Yes. Um, I'm definitely taking time off to rest. It's much needed. And I'm just really enjoying doing the little things like keeping food in my fridge that won't go bad and using it and cooking and going to Target and shopping for home goods. I was always between Canada and the U.S. so I never really got to have roots. And so it's just these little things that I'm really enjoying right now. I'm taking my time reestablishing my friendships and relationships and…
Getting your sleep schedule back.
Yeah. Yeah. Not waking up at 5:00 AM is really nice! Obviously, I want to work again, but I was saying to someone before this that one of the other reasons I'm so grateful for this experience is that The Flash allowed me a level of monetary success to take the time to think about what's next. I don't have to rush into anything. I really want to do things that I'm passionate about and I think that's gonna take time.
What did you take from the set?
I don't think I took anything. No, I took my wedding rings. I've got Iris's wedding rings…and sometimes I wear them. To fend off men sometimes I just wear them. [Laughs]
Stephen Amell has already started talking about a potential Arrowverse reboot in the grittier [streaming] kind of way. Would you be game for popping back in?
Um, I'd pop. [Laughs] Yeah. I'd pop back in. I mean, it's not a terrible idea, like re-imagining it in a grittier sort of way. But I think it's also nice to give these characters, or at least my character, you know, some time to rest.
Yeah. Well, I just wanna thank you for everything that you've done. Through it all, you have always shown up for this show, you stuck by this character and you made a difference for so many viewers. I wish you the best and more than anything, I just want you to be happy after this.
Oh, that means a lot to me, thank you. I know you have championed me and supported me even in the way you speak about me and my character at a time when not all press was very nice to me. Those things were not lost on me, so I appreciate your professionalism and your respect for me as a person for nine years.
Always. Now go, enjoy Target!
Thank you! [Laughs]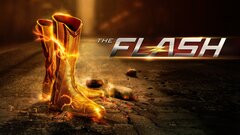 Powered by