'Smash' Ended 10 Years Ago: Relive the Most-Streamed Songs (VIDEO)
The NBC musical drama Smash didn't exactly live up to its title during its television run, dropping to 113rd place amongst network TV shows during its second and final season. But everyone loves a comeback story, so it should be no surprise that a stage production of Smash is on its way to Broadway.
Of course, theatergoers have already seen Smash songs on the Great White Way: The cast of the TV show reunited for a one-night-only benefit concert in 2015, performing numbers from Bombshell, the fictional Marilyn Monroe musical that the characters of Smash brought to Broadway.
But the new Smash musical, set to debut in the 2024-2025 season, will be an adaptation of the Steven Spielberg-produced TV show itself, with Tony winner Susan Stroman directing and Smash's Marc Shaiman and Scott Wittman once again handling the music, Playbill reports.
While we wait for curtain time — and as we mark the 10th anniversary of the Smash finale on May 26 — let's see which Smash songs have been hits with fans. According to Last.fm — which pulls listener data from Spotify, Apple Music, and other streaming platforms — these are the top 10 tracks from the TV show.
10. "Haven't Met You Yet"
In character as sitcom star Lyle West, Nick Jonas sings this Michael Bublé song in the episode "The Cost of Art." (And be sure to keep watching after the performance to see Lyle, played by a 19-year-old Jonas, clarifying that he's 12 years old.)
9. "Don't Forget Me"
Season 1 ends with Karen (Katharine McPhee) performing this original song to rapturous applause in Bombshell's Boston previews, while Ivy (Megan Hilty) considers ending it all.
8. "Mr. & Mrs. Smith"
With Ivy playing Marilyn in Bombshell, actor Michael Swift (Will Chase) gets cast as Joe DiMaggio, and the two characters sing this duet — dreaming of small-town anonymity — in the episode "Enter Mr. DiMaggio."
7. "Shake It Out"
Karen covers Florence + the Machine in the episode "Chemistry" as she fills in at a Long Island bar mitzvah, much to the appreciation of the 13-year-olds in her audience.
6. "History Is Made At Night"
Ivy and Karen's rivalry in Smash continues in "The Cost of Art" as they workshop this song, another duet between Marilyn and Joe.
5. "Let's Be Bad"
This titular number from Smash's fifth episode — one of the performances that earned choreographer Joshua Bergasse an Emmy — has Ivy playing a Marilyn on a downward spiral.
4. "Touch Me"
Ryan Tedder played himself in the episode "The Coup," as Derek brings in the OneRepublic singer to rework Bombshell with edgier tracks like this one.
3. "Broadway, Here I Come!"
When Bombshell hits bumps in the road to Broadway, Karen meets a songwriting duo working on a musical called Hit List, and she's blown away by Jimmy's (Jeremy Jordan) performance of this song.
2. "The 20th Century Fox Mambo"
As part of her Bombshell audition, Karen performs this song, in which a fictionalized Marilyn brings a "fiery" rhythm to her screen test for 20th Century Fox.
1. "Let Me Be Your Star"
The best-known Smash song — from Karen and Ivy's Bombshell callbacks — earned both an Emmy nomination for Outstanding Original Music and Lyrics and a Grammy nomination for Best Song Written for Visual Media.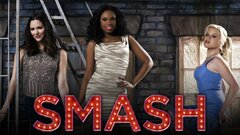 Smash
where to stream
Powered by