Drewds, Rejoice! The 'Nancy Drew' Final Season Trailer Is Here (VIDEO)
Trend and ye shall receive!
The Nancy Drew fandom was all fired up on Monday, May 15, tired of waiting for the Season 4 trailer and we can sympathize. The outstanding adaptation of the classic teen mystery novels is heading into its fourth and final season on May 31st and nary a clip had been dropped.
No, we have proof that season 4 exists! 😄🫡 #NancyDrew pic.twitter.com/pxGkmxVWu8

— Simona Hr (@Simona_Hr) May 16, 2023
Still no #NancyDrew trailer, this is getting ridiculous pic.twitter.com/aIHdXQjmOh

— Emily (@emilymxtt) May 16, 2023
But now, it's here and we are proud to present your exclusive first look at the jumps, jolts, and giant spiders to come once the series returns. And while it's heartbreaking to say goodbye to this well-written, perfectly cast gem, there is at least a small comfort in seeing that the producers have clearly cooked up something wild for the Drew Crew's last hurrah. Especially once you read the official Season 4 description:
"Season 4 begins as Nancy (Kennedy McMann) launches a new investigation to find a group of missing bodies from Horseshoe Bay's cemetery that have been dug up and stolen – or have possibly risen. As Nancy is drawn into this ghostly case, a string of unexplained paranormal crimes leads the Drew Crew to believe that the literal sins of the town's past have returned to haunt the living.
"Meanwhile, Nancy struggles with yearning for Ace (Alex Saxon), the man she loves. But when a slow-burning attraction begins between Nancy and the son of Ryan Hudson's newest enemy, Nancy must decide whether this love interest is worth the ire of both her father and Ace – whose own heart may be tempted by a new relationship too.
"Nancy's exploits this season will bring the Drew Crew numerous standalone cases, stunning twists, humor, and unexpected romances as they are drawn into a season-long mystery unlike any they've had to solve before. When Nancy's efforts to protect her seaside hometown from the sins of its past backfire, she must do the unthinkable to save her friends from both the supernatural and earthbound threats coming for them – and it could cost her everything, and everyone, she's ever loved."
The CW adaptation follows the "legendary teen detective as she solves mysteries – both earthbound and supernatural – in her haunted hometown of Horseshoe Bay, Maine. Nancy leads a sleuthing team of close-knit friends: George Fan (Leah Lewis), whose desire for justice has brought her fighting spirit to the courtroom as an aspiring law school student, a path she must forge despite her disadvantaged background; Ned "Nick" Nickerson (Tunji Kasim), whose broken engagement with George has left him single, back on the dating scene, and focused on becoming a rising star as a local businessman; Bess Marvin (Maddison Jaizani), who is eager to become the town's guardian of dangerous supernatural secrets, only to encounter a threatening new foe who's hellbent on leading a witch-hunt to undermine Bess's mission; and Nancy's star-crossed love Ace, who must confront the deathly curse keeping him and Nancy from acting on their feelings for each other."
Start your theorizing, folks, and leave your take on the trailer in the comments below!
Nancy Drew, Season 4 Premiere, Wednesday, May 31, 8/7c, The CW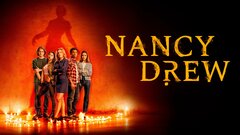 Powered by