'The Great' Stars Nicholas Hoult & Elle Fanning React to That Season 3 Death
[Spoiler Alert: The below contains spoilers from The Great, Season 3.]
The Great is great at entertaining its viewers, but Season 3 delivered one of the show's biggest surprises yet in the form of an unexpected death.
If you haven't tuned into the show yet, stop scrolling because we're about to enter major spoiler territory.
In Episode 6, which is aptly titled "Ice," Catherine (Elle Fanning) and Peter (Nicholas Hoult) have an intense debate over his desire to take back Sweden for his friend Hugo (Freddie Fox). She doesn't want him to go and start a war when there's already turmoil on their own soil, with his body double raising tensions among villages, spreading lies about Catherine, and stoking the flames of unrest.
Peter defends that he has to do this because he's haunted by visions of his own father, played by Jason Isaacs, who wants more for him. Even Peter's friend Grigor (Gwilym Lee) couldn't convince Peter to stay and go home with them as the vital figure got atop his horse and started crossing a frozen river away from his wife and best friend to Hugo and Army leader Velementov (Douglas Hodge) on the other side.
In a gut-wrenching occurrence, Peter begins to reconsider, but just as he's about to turn around and head home with his wife and friend, he falls through the ice. Foot stuck in the stirrup—Peter is dragged down into the icy depths to his death. While Peter, as a historical figure, dies at a young age, his death in the series comes seemingly out of nowhere, surprising viewers and Hoult himself.
"I was the saddest I've ever been," Hoult tells TV Insider. "It felt — this sounds bizarre — but it felt real, you know? I know it's a fictional character that I've been playing, but I cared deeply for him, and he brought a lot of joy playing him to me and all the memories that I've had over the past few years with everyone making the show all intertwined with that."
"So it felt like a very bizarre," Hoult continues. "It almost felt like being at your own funeral in a strange way."
"Tony [McNamara] wrote it in such a beautiful way and it was also right in terms of moving forward for Catherine's story. And that was what was exciting. I remember doing the read-through for that episode and being obviously upset myself, but then hearing where Catherine was going and how Elle was kind of gonna portray that manic denial and mania that stemmed from it," Hoult notes.
As viewers may recall, Catherine abruptly denies reality, telling Grigor on the carriage ride back to the palace that they imagined what they saw, and the mania Hoult refers to, sets in. "I just got really excited 'cause this is heartbreaking but also so wonderful and funny and powerful," Hoult says."
As for what's ahead, Fanning says she's hopeful about exploring a new side of Catherine should the show be back for Season 4. "I mean, Catherine is a completely changed woman. I'm very excited to explore different parts of her and [see] her explore her sexuality a bit because that was such a big part of the real Catherine the Great."
Only time will tell how that may manifest, but in the meantime, let us know what you thought of Peter's surprising death in the comments section below.
The Great, Season 3, Streaming now, Hulu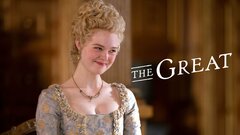 Powered by