'The Walking Dead: Dead City': Maggie & Negan Take Manhattan in New Trailer (VIDEO)
AMC Networks has finally released the official trailer for the next spinoff in The Walking Dead Universe, The Walking Dead: Dead City, featuring Lauren Cohan and Jeffrey Dean Morgan as Maggie and Negan.
In the footage above, we see Maggie and Negan traveling to Manhattan by way of boat; all scored to Iggy & The Stooges' "Gimmie Danger." We then hear why they're there: Maggie's son, Hershel, was taken from her in a raid and brought to the city. She dragged Negan along with her because those same people also happened to have a score to settle with him. Of course, well-seasoned fans of the original The Walking Dead know Maggie and Negan are bitter enemies who have come to learn to live with one another, despite their bad blood (he killed her husband).
The Walking Dead: Dead City follows fan-favorite characters Maggie and Negan traveling into a post-apocalyptic Manhattan long ago cut off from the mainland. The crumbling city is filled with the dead and denizens who have made New York City their own world full of anarchy, danger, beauty, and terror. Alongside the trailer, AMC Networks also revealed key art — offering a look at that landscape — for the show, which you can check out below.
The series also stars Gaius Charles and Željko Ivanek, amongst others. Eli Jorné, a writer and co-executive producer on The Walking Dead for multiple seasons, serves as showrunner and executive producer on the series, which is overseen by Scott M. Gimple, chief content officer of TWD Universe. Cohan and Morgan also serve as executive producers, along with Brian Bockrath.
The new series in TWD Universe will premiere Sunday, June 18, at 10/9c on AMC and AMC+, with subsequent episodes airing at 9/8c.
The Walking Dead: Dead City, Series Premiere, Sunday, June 18, 10/9c, AMC and AMC+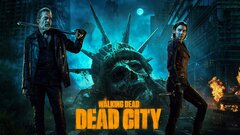 Powered by