Andrew Lincoln & Danai Gurira's 'The Walking Dead' Spinoff Set to Debut in 2024
The long-promised The Walking Dead spinoff starring franchise vets Andrew Lincoln and Danai Gurira finally entered production last week in New Jersey.
The previously announced movie is now a six-episode series and is set to debut next year on AMC and AMC+. To commemorate the occasion, the network released behind-the-scene images from the set, showcasing the reunion and continuation of Rick Grimes and Michonne's journey.
"The series presents an epic love story of two characters changed by a changed world. Kept apart by distance. By an unstoppable power," according to AMC. "By the ghosts of who they were. Rick and Michonne are thrown into another world, built on a war against the dead… And ultimately, a war against the living. Can they find each other and who they were in a place and situation unlike any they've ever known before? Are they enemies? Lovers? Victims? Victors? Without each other, are they even alive — or will they find that they, too, are the Walking Dead?"
Scott M. Gimple, Chief Content Officer of The Walking Dead Universe, will serve as showrunner and executive producer alongside Lincoln, Gurira, Denise Huth, and Brian Bockrath.
Andrew Lincoln and @DanaiGurira are back on set!

The next chapter of Rick and Michonne's story begins… pic.twitter.com/eG14tWr2Xc

— The Walking Dead (@WalkingDead_AMC) February 21, 2023
Gurira teased the upcoming series on New Year's Day as she took to Instagram to share a selection of behind-the-scenes photos with Lincoln and Gimple. "#Richonne spin-off. 2023. Pre-production is in full swing. We're getting there!" she wrote alongside the images.
Lincoln starred in the lead role of The Walking Dead since it debuted in 2010, and Gurira joined in the third season. Their characters eventually became romantically involved, with Michonne becoming a mother-like figure to Rick's son, Carl. Lincoln left the series after Season 9, while Gurira departed after Season 10; however, both appeared in special guest roles in the 11th and final season.
Untitled Rick/Michonne Spinoff Series, 2024, AMC+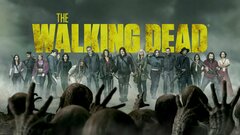 Powered by