'9-1-1' Ending Fox Run, Moving to ABC for Season 7
9-1-1 fans, there's some big news.
The good news: 9-1-1 will be returning for its seventh season. But here's the twist. It will on a different network! The hit drama is joining ABC's lineup for the 2023-2024 season, rather than continue to air on FOX. This news comes just two weeks before what will now be the finale of its run on FOX (May 15).
"It has been an honor to be the founding network of 9-1-1 and we are grateful to Ryan Murphy, Brad Falchuk and Tim Minear, together with Angela Bassett, Peter Krause, Jennifer Love Hewitt, Oliver Stark, Aisha Hinds, Kenneth Choi, Ryan Guzman and the rest of the cast and crew, and 20th Television for delivering such an impactful series to FOX," the network said in a statement. "We wish them well after 9-1-1's final FOX season concludes."
As for its new home, "thanks to the creative drive of Ryan Murphy, Brad Falchuk and Tim Minear, as well as the talented cast, 9-1-1 has been one of the most defining and original dramas on network television over the last six seasons and we are honored to bring it to the esteemed group of series on ABC," said Craig Erwich, president, Disney Television Group. "It's a privilege to keep 9-1-1 in the family with 20th Television producing, and we look forward to telling more heart-racing and uplifting stories about these beloved characters on our air."
The series follows the high-pressure experiences of first responders — including police officers, firefighters and dispatchers — who are thrust into the most frightening, shocking and heart-stopping situations. This season it ranks as Monday's No. 1 entertainment series and ties as the season's No. 1 broadcast drama in Adults 18-49. It also ties as the No. 2 entertainment series on the broadcast networks this season in Adults 18-49.
The series stars Angela Bassett as Athena Grant, Peter Krause as Bobby Nash, Jennifer Love Hewitt as Maddie Kendall, Oliver Stark as Evan "Buck" Buckley, Kenneth Choi as Howie "Chimney" Han, Aisha Hinds as Henrietta "Hen" Wilson, Ryan Guzman as Eddie Diaz, Corinne Massiah as May Grant, Marcanthonee Jon Reis as Harry Grant, and Gavin McHugh as Christopher Diaz.
9-1-1 was created by Ryan Murphy, Brad Falchuk, and Tim Minear. Alexis Martin Woodall, Bassett, Krause, John J. Gray, Kristen Reidel, and Juan Carlos Coto also serve as executive producers.
9-1-1, Mondays, 8/7c, Fox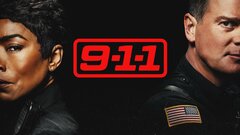 9-1-1
where to stream
Powered by