'9-1-1': Kenneth Choi Teases 'Cataclysmic Catastrophe' & Lives in Danger in Season 6 Finale
If there's one thing we've come to expect from 9-1-1 over the years, it's a wild finale with some sort of major emergency that likely puts one of the first responders in danger. And it sounds like that will once again be true this spring.
The Fox drama ends its sixth season on Monday, May 15, and after getting some teases from Kenneth Choi while talking to him about the latest episode that felt like a sequel to "Chimney Begins" in a way, we can't help but wonder how this one will stack up to past finales that have included things like bombs, a train crash, and a sniper.
Choi previews what's still to come in Season 6, as well as a decision that will need to be made by Chimney and Maddie (Jennifer Love Hewitt).
What's coming up for Chimney? What can you say about how the season ends for him?
Kenneth Choi: In the next episode, there's an event that triggers something in Chimney and Maddie that's going to force their hand. Chimney and Maddie sort of really love to sit in this kind of ambivalent state, right? Because of her traumas, because of his traumas, in their own lives and in their own relationships. So this inciting incident is going to trigger them in a way where, knowing Chimney and Maddie, it's probably going to be very stressful. There will probably be a lot of indecision, which lends to a lot of conflict. So I can't say what happens, but I think it's going to be a very interesting last few episodes of the season for Chimney and Maddie.
Are we going to see Chimney leaning on Hen (Aisha Hinds) during this time? 
I think Chimney will lean heavily on Hen, and whether Hen is there for Chimney or not, we will have to wait and see.
Yeah, because Hen has the stuff with Nathaniel (Troy Winbush) going on, and we got that nice moment between Chimney and Denny (Declan Pratt) with that.
My first scene with him, and I gotta tell you, he is one of the brightest young actors I've ever seen. We tend to have last minute script changes, and we did for that particular scene. I was at a table studiously trying to memorize these new lines for the day, and he was sitting there playing, and I asked him, "Do you know all these lines already?" He said yes. And I said, "Let's go over the scene." And so he did it almost word for word. And then I said, "Do you know my lines?" And he said, "Let me see." He recited them word for word. I was both embarrassed and completely shocked. And I asked him, "Do you have a photographic memory?" He said, "I'm not sure." I came to the conclusion that he does. It was incredible.
What else can you tease about the finale, maybe in terms of the emergencies?
There is a cataclysmic catastrophe that happens. Usually there's one first responder who is put in a perilous situation, and perhaps this finale has more than one in a dangerous situation that could end perilously.
Brad Buecker directed the episode, and he also directed the episode where Buck [Oliver Stark] gets struck by lightning and he has a way of elevating the danger. He has a way of elevating the excitement and he has a way of elevating the dangerous energy of the emergencies, the way he shoots him and the way that he separates all of the different emergencies within one emergency that are happening. And I can tell you that this finale is going to be stupendous.
That Buck getting struck by lightning sequence was, I think, the most intense ending to an episode yet.
It was such a great ending. Buecker took that by the reins, and it's probably my favorite episode of the season. It wasn't just the finale of that episode. Even the scenario where we're rescuing the pregnant woman and the driver from the car…
The baby!
Right? The baby being ejected. On the page, it read exciting. But Brad had a way of separating three emergencies within the one emergency that made it almost like a Christopher Nolan-esque piece, where Christopher Nolan has this great way of composing action scenes where there are three or four different perilous things going on. So you're rotating from one to another to another. So one, you don't get bored, but two, you're always on the edge of your sea. And Brad Buecker is amazing at that. And believe me, this finale is going to represent that as well.
Whenever 9-1-1 brings up Chimney's past or even just with him teaching in this episode, it feels like the perfect way for how he got that nickname to come up… but it didn't.  Does that cross your mind when you read these scripts?
No, because, as an actor, I already formulated before we ever shot one day of film, why Howie is called Chimney. Now, throughout the seasons, people, audience members have probably come up with their own iterations of why he's called Chimney, just from the reactions from the other members of the 118. So I still haven't waffled from what I think is the root of the name Chimney, and I really shouldn't say anything more than that.
Are we going to get any more Chimney-Maddie-Athena-Bobby dinners? That was awesome.
It was awesome because I don't think I've ever been in a scene with the three of them at one time. I've done scenes with Peter [Krause], I've done scenes with Jennifer, I've done scenes with Angela [Bassett]. It's very rare that it's the four of us, which is odd, because in real life, you would think that we'd be hanging out quite a bit, right? They've had children. We have children. And I'm hoping that that does happen because it's extraordinary to watch these brilliant actors, just as a fan of acting. I get to have a front row seat to watch Angela Bassett, I have a front row seat to watch Mr. Krause, I have a front row seat to watch Jennifer Love Hewitt, and they are some of the greatest actors I've worked with.
We have gotten some really great group celebration scenes, including at the end of seasons. Is there one coming up?
I don't recall. I think we kind of covered that when Buck was dead. I don't know if we have any of those big celebration scenes because once again, we have a lot of sort of very contentious cataclysmic stuff happening. So it's more all of the first responders in action together. That would be the celebration is they're all together saving lives and perhaps saving each other's lives.
Can you say if the season ends on a cliffhanger then? Because 9-1-1 hasn't done that, but it seems possible…
Oh, that's something I definitely couldn't say.
9-1-1, Mondays, 8/7c, Fox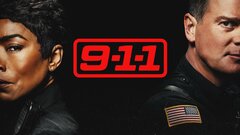 9-1-1
where to stream
Powered by