Roush Review: Heroism Shines in 'A Small Light,' a New Twist on the Anne Frank Story
We first see the remarkable Miep Gies (an incandescent Bel Powley) as she's leading a scared Margot Frank (Ashley Brooke) on bicycle through a Nazi checkpoint. Their destination: the annex where the Frank family and four others will hide for two years from 1942 until their fateful discovery in 1944. Heroism and terror infuse nearly every moment of A Small Light, a first-rate eight-part docudrama airing over four Mondays on the National Geographic Channel. (Episodes will stream the following day on Hulu and Disney+.)
Miep is a crucial part of the Anne Frank story, having been a loyal employee for years of Otto Frank (Liev Schreiber in a movingly restrained performance of grave dignity) before he was forced to ask her and her office co-workers to risk their lives to protect and fend for his family and friends during the oppressive Nazi occupation. To her credit, Powley (The Morning Show) brings Miep to life in all of her colors, not always noble or heroic.
She's a flighty mess when she interviews with an amused Frank for her office job, desperate to be independent from her adoptive but hypercritical Dutch family. (Flashbacks to Miep being sent away for her health by her Austrian mother as a child provide a haunting contrast to her relationship with the tight-knit Frank family, who understandably chafe under the restrictions of their secret existence above Otto's workplace.)
Miep is headstrong, impulsive, quick to anger when she realizes her closest friend (Poldark's Eleanor Tomlinson) is chummy with local Nazi collaborators. And yet she's also funny and sexy, finding rare moments of joy and comfort with her husband Jan (Peaky Blinders' terrific Joe Cole), who begins working for the resistance without initially informing his emotionally volatile wife. A Small Light gains power through its depiction of the dangers the Gieses and other Dutch resistance members face, and also the trauma when their mission involves separating adult Jews from their children, many sent into the countryside for safety while their parents face deportation into the hell of concentration camps.
This is, as ever, a harrowing and heartbreaking story, yet also inspiring whenever Miep drops in on the Franks and the others hiding in their upstairs cocoon. There are marvelous scenes of Anne (a luminous Billie Boullet) being her restless and hopeful self, often bedeviling those around her with her feisty curiosity, and of her restrained mother Edith (Amira Casar) taking Miep under her wing as a surrogate mother, at one point insisting she wear one of her unused gowns to a party.
We all know how it's going to end, which doesn't make the dramatization of the raid in August 1944 any easier to watch or the sorrow any easier to bear when Otto returns after the liberation as the sole survivor. Miep is resolute in her stubborn belief that she could have done more.
History tells us that saving young Anne's diary was miracle enough.
A Small Light, Limited Series Premiere, Monday, May 1, 9/8c (two episodes), National Geographic (streaming next day on Hulu and Disney+)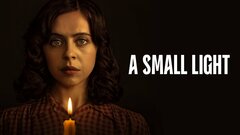 Powered by