First Look: 'FBI' Stages Tense Reunion for Maggie & Her Sister (PHOTOS)
Maggie (Missy Peregrym) is getting a family reunion she probably wishes she wasn't in an upcoming episode of FBI.
TV Insider has the exclusive details and photos for Adrienne Rose Bengtsson's return as Maggie's sister, Erin Bell (which John Boyd had told us was coming). She shows up in the April 25 episode, "Sisterhood," and according to CBS, "the shooting of a drug dealer in a federal park sets the team out to look for his killer, while Maggie's sister returns to New York and complicates the case." Check out the images below.
Bengtsson first appeared in Season 3 in the episode "Brother's Keeper." Erin had just started at Columbia (after not taking school seriously last time), and Maggie was worried when she smelled smoke on her hair. Erin insisted it was just from the people she was hanging out with. But when Erin didn't answer her texts, Maggie tracked her phone, which led to her sister eventually showing up at 26 Fed.
Last time she was smoking, she was doing drugs, Maggie reminded her, and while Erin could understand her concern, she insisted she was clean. But at the end of the episode, Maggie finds pills in her dorm room, and Erin agrees to go to rehab.
Bengtsson returned in Season 4, in "Gone Baby Gone," and Erin was kicked out of rehab after drinking (first, she said it was a sip, then half a margarita) while out celebrating her roommate's birthday. Alcohol wasn't her problem, Erin reminded her sister, but Maggie knew recovery was all or nothing. Then, upon learning that Erin had an "unscrupulous man" over, Maggie used FBI resources to ID him and learned he had multiple drug priors via Jubal (Jeremy Sisto). After Jubal sent NYPD officers for a wellness check, Maggie found out her sister overdosed — while she should have been focusing on an opp the team was running.
That couldn't happen again, Jubal stressed when he joined her at the hospital. He also had some advice as an addict himself: When he was still drinking, people who thought they were helping him the most weren't. With that in mind, once she could see her sister, Maggie told her she couldn't be her fallback anymore or in her life like this. She didn't think they should see each other for a while.
And so, this upcoming reunion? We have a feeling it's going to be painful.
FBI, Tuesdays, 8/7c, CBS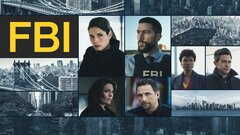 FBI
where to stream
Powered by