'The Great': Catherine & Peter Let Chaos Reign in Season 3 Trailer (VIDEO)
The Great is gearing up for its Season 3 return to Hulu and Catherine (Elle Fanning) and Peter (Nicholas Hoult) are back for more bickering as royal spouses in the dark comedy.
Set to premiere with all ten episodes on Friday, May 12, the series from creator, writer, and executive producer Tony McNamara puts forth its latest chapter in the new trailer which teases even more chaos as for the couple as they navigate new roles in a changing society. As teased in the trailer, above, Catherine and Peter are attempting to make their marriage work despite an arguably rocky start which included seemingly insurmountable problems.
As fans will recall, Peter witnessed his own attempted murder at Catherine's hands, and she also imprisoned all of his friends. On top of this, Peter is at a loose end playing First Husband to Catherine's reign, and so viewers will see him fulfilling his duties as a father, enjoying hunting excursions, and exploring new culinary ventures in Season 3.
Of course, these new parts of his life aren't enough to please the unsatisfiable Peter who is haunted by visions of his late father (played by Jason Isaacs) who gets into his head about his failures as Peter the Great's son. Meanwhile, Catherine begins to make a name for herself beyond her borders and inspired by a visit from the US ambassador, she sets up a conference where peasants, nobles, and merchants can provide input on developing a new Russia.
The idea appears to backfire in the trailer as Russia's citizens appear to be reluctant when it comes to her vision for the country. Over the season, Catherine will learn that even the best political leaders sometimes need to make compromises in order to move forward, thankfully for viewers, there will be some comedic blunders on the path to uncovering such realizations.
Along with McNamara, The Great's executive produced by Fanning, Hoult, Marian Macgowan, Mark Winemaker, Brittany Kahan Ward, Doug Mankoff, Andrew Spaulding, Ron West, and Josh Kesselman. The series is produced by Civic Center Media in association with MRC Television. Get a peek at the fun in the trailer, above, and don't miss The Great when it makes its triumphant return this spring on Hulu.
The Great, Season 3 Premiere, Friday, May 12, Hulu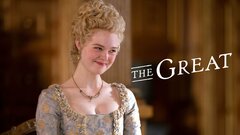 Powered by