'The Great' Sets Season 3 Premiere: Elle Fanning & Nicholas Hoult Return in First Look (PHOTO)
Huzzah! The Great Season 3 premiere date is in sight as Hulu announced the show's return is set for Friday, May 12.
The streamer celebrated the news with the release of a first-look image, above, featuring stars Elle Fanning and Nicholas Hoult in character as Catherine and Peter. As viewers will recall, the pair welcomed their son Paul towards the end of Season 2, and when Season 3 picks up, the couple is attempting to make their marriage work after some seemingly insurmountable problems.
Witnessing his own attempted murder at the hands of Catherine in the Season 2 finale, Peter's friends have all been imprisoned, and so in Season 3, he's busying himself with fathering, hunting, and salty culinary ventures while playing First Husband to Catherine's reign. But contentment isn't a reality for Peter who is haunted by visions of his late father (played by Jason Isaacs).
As these visions get into his head, Peter begins to reflect on his failures as Peter the Great's son. Meanwhile, Catherine the Great starts making a name for herself beyond borders, and inspired by a visit from the U.S. ambassador, she sets up a conference where peasants, nobles, and merchants can all give their input on the development of a new Russia.
Along the way, she learns that even the best political leaders need to make compromises in order to progress. Along with starring in the series, Fanning and Hoult executive produce alongside writer and creator Tony McNamara, Marian Macgowan, Mark Winemaker, Brittany Kahan Ward, Doug Mankoff, Andrew Spaulding, Ron West, and Josh Kesselman.
Don't miss it! Stay tuned for more news on the upcoming season of The Great as we approach the show's premiere date at Hulu, and in the meantime, revisit Seasons 1 and 2.
The Great, Season 3 Premiere, Friday, May 12, Hulu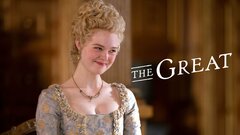 Powered by